 Unique event takes place at Coventry's Herbert Art Gallery & Museum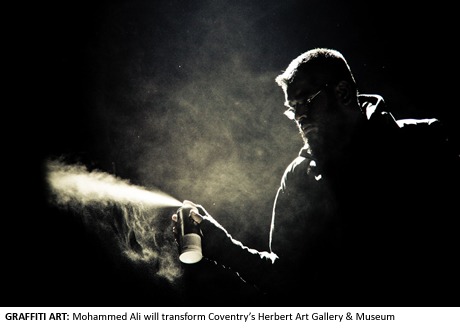 A COVENTRY Art Gallery will be transformed into its own piece of art in a special one off performance by award-winning graffiti artist Mohammed Ali.
Birmingham based Mohammed, who also works under the name AerosolArabic, will front a unique performance of live-painting and spokenword at the Herbert Art Gallery & Museum this week.
The event, entitled Breaking Down the Wall Live will follow four days of painting by Mohammed within the gallery.
Art lovers are being invited to the event which is free to attend on 19 November.
Mohammed, one of Birmingham's most respected artists, has been working with graffiti in the West Midlands for over fifteen years. He has taken his art around the world painting his unique work in Melbourne, Toronto, New York and Dubai. Mohammed's art is a unique fusion and celebration of street-art with Arabic Islamic script and patterns.
Speaking about the forthcoming show, Mohammed said: "Street-art is one of the most exciting art forms around.  It's amazing how it can transform some of our ugly grey environments into inspiring, beautiful pieces of art.
 "Street-art has been part of my life for a few decades now; it's hard to imagine life without it. I like to bring colour and meaning to people's lives and bring to the forefront messages that are fading away from our modern societies."
Breaking Down the Wall Live, Herbert Art Gallery & Museum, 19 November between 7.00pm and 8.00pm, Free to attend.