 Salim Razaq sentenced to eleven and a half years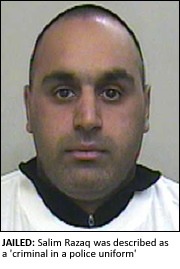 A CORRUPT Lancashire police sergeant helped his drug gang "enforcer" brother by hiding a cache of weapons and intimidating witnesses has been jailed for eleven and a half years.
Salim Razaq, 33, pleaded guilty to misconduct, perverting the course of justice, possession of ammunition and firearms, and money laundering before the start of his trial at Liverpool Crown Court last month.
A raid on the former Lancashire Police sergeant's home found three machine guns hidden under the stairs, bundles of ammunition stored under the garden shed and more than £70,000 of laundered cash in his bedroom.
Details of the case were made public after a judge at Liverpool Crown Court lifted reporting restrictions on a separate charge of deception relating to a mortgage application and today Razaq was jailed for eight years for the firearms offences and three and a half years for the other offences.
Razaq was caught when he plotted to help his brother Hafiz, known as "The Enforcer" and "Big Haf", escape prosecution for his role in a violent turf war between drugs gangs in Preston.
He was sacked by Lancashire Police in June.
Two members of his family also admitted offences. Gulshan Razaq, 58, of Chester Road, Preston, Salim's mother, and his brother, Hafiz Razaq, 25, of HMP Manchester, both admitted perverting the course of justice. Hafiz Razaq also admitted money laundering.
Gulshan Razaq was sentenced to 44 weeks in prison suspended for two years and Hafiz Razaq was sentenced to three and a half years to run consecutively with a sentence he is already serving for a conspiracy to kidnap offence.
Three others also admitted offences. Jason Lawrenson, 26, of HMP Preston and Daniel Cookson, 25, of Yewtree Avenue, Ribbleton, admitted money laundering. Louis Bamber, 22, of HMP Liverpool, admitted possession of a firearm.
Lawrenson was jailed for two years and eight months, Cookson for 16 months and Bamber for 18 months.
Assistant Chief Constable of Lancashire Constabulary Andy Cooke said: "I am pleased with today's sentences which reflect the gravity of the offences."
He previously described Razaq as "nothing short of a criminal in a police uniform."