 MPACUK vindicated in immigration leaflet claims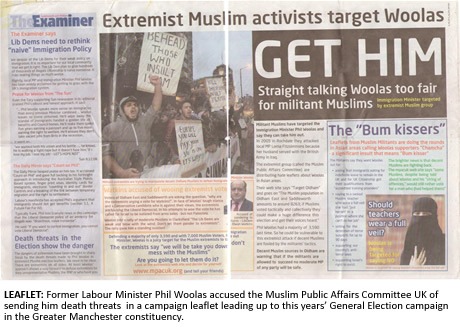 A MUSLIM group who were accused in campaign leaflets of sending death threats to a former Labour Minister have welcomed a High Courts decision to re-run the constituency General Election campaign he won.
Former Immigration Minister Phil Woolas accused the Muslim Public Affairs Committee UK (MPACUK) of sending him death threats in a campaign leaflet leading up to this years' General Election campaign in the Greater Manchester constituency.
Mr Woolas, who won the Oldham East and Saddleworth seat by 103 votes, also accused his Liberal Democrat rival Elwyn Watkins of refusing to condemn the death threats and pandering to Muslim militants.
But he was found guilty of knowingly making false statements about Mr Watkins and barred from the Commons for three years. Mr Woolas said he would apply for a judicial review of the decision.
Welcoming the judgement Catherine Heseltine, CEO of MPACUK said: "We should all be concerned at the evidence that this MP was prepared to stir up anti-Muslim hatred in an attempt to win votes in an area that has experienced race riots."
Emails submitted to the court revealed that the MP's election strategy was, "to explain to the white community how the Asians will take him out… If we don't get the white vote angry he's gone."
Election literature in the form of local newspapers was targeted to white areas of Oldham and highlighted Lib Dem plans to allow local Muslims to build a new mosque.
MPACUK was accused in Mr Woolas's election literature of being an "extremist" organisation distributing "hate leaflets" against the MP.
The MP's election literature also claimed that he faced "death threats made to Phil Woolas in extremist Muslim election leaflets". However in his testimony the MP admitted that he had not reported this to the police as a crime and he failed to produce evidence of this alleged threat.
A spokesperson for MPACUK said: "We have been appalled by his conduct as an MP as well as his tactics during the 2010 General Election.
"We hope that the forthcoming by-election in Oldham East & Saddleworth is conducted ethically and that the voters will be served by a better public servant than Phil Woolas."