 £2m went through personal account in just two weeks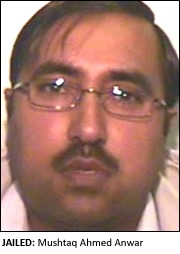 A BURY taxi driver, who acted as a courier for other criminals, has been jailed for three years for attempting to launder millions in criminal cash through his personal bank accounts.
Over £2million in cash went through the personal accounts of Mushtaq Ahmed Anwar in two weeks at a time when he had a declared income of £10,000 a year.
The 33-year-old was sentenced at Manchester Crown Court following an investigation by HM Revenue & Customs (HMRC) into his financial transaction.
The enquiry into Anwar's involvement began in 2007 when he was caught during a HMRC surveillance operation in London, driving his vehicle with two passengers inside. When one passenger got out of the vehicle carrying a blue bag he was challenged by HMRC officers who found that the bag contained over £99,000.
Anwar was also spotted in Birmingham and Watford several times on further suspected money drops or pick ups.
In February 2008, Anwar was arrested at his home in Bury on suspicion of money laundering. During a house search several padlocked cases containing cash were found in various locations; also bundles of cash were dotted about the house. In total over £30,000 was found. Other documents discovered indicated Anwar had handled millions.
In sentencing, His Honour Judge Stockdale QC said: "You were actively involved in money laundering and part of a network of money launderers used to transport criminal cash around the UK. Some of the deposits into your bank accounts may have been legitimate; however, your evidence was fanciful and was rejected by the jury. The true origins of the cash, be it drug trafficking or theft, may never be known."
The cash seized in this investigation has been forfeited to the Crown under Proceeds of Crime legislation and a confiscation of assets is being sought.