 Roshonara Choudhry stabbed MP twice over Iraq War support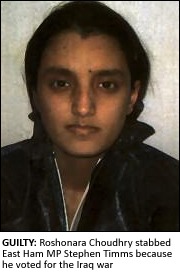 A WOMAN who stabbed an MP as his punishment for voting in favour of the Iraq war has been jailed for life at the Old Bailey.
Roshonara Choudhry, 21, stabbed East Ham MP Stephen Timms twice in the stomach at his constituency surgery at The Globe community centre in Kingsford Way, Beckton, on 14 May 2010.
Choudhry, who refused to attend her trial, was ordered to serve a minimum of 15 years in jail.
The Old Bailey jury heard that Choudhry arrived at the community centre where Mr Timms was having his constituency surgery armed with a kitchen knife.
She was made to wait by a security guard after asking to meet with Mr Timms.
When the MP became available Choudhry moved around a desk towards Mr Timms who thought she was coming to shake his hand, and he put his hand out accordingly.
Choudhry held out her left hand but In her right hand she was holding a kitchen knife with an approximate three-inch blade, hidden inside her bag or clothing.
She lunged forward stabbing Mr Timms in the stomach. As the MP tried to fight off Choudhry he was stabbed again in the stomach.
Choudhry was eventually restrained by a security guard while Mr Timms's assistant wrestled the knife away from Choudhry.
Police arrived at the community centre and arrested Choudhry before recovering from her bag a black-handled knife with a five-inch blade wrapped in a red towel.

Mr Timms was taken to the Royal London Hospital and had surgery on two small lacerations to part of his liver and a small perforation of his stomach. His injuries were significant, but not immediately life threatening.

When interviewed by police, Choudhry said she stabbed Mr Timms because he voted for the Iraq war and she wanted to achieve 'punishment' and 'to get revenge for the people of Iraq'.
MPS Deputy Assistant Commissioner Stuart Osborne said:

"Stephen Timms was carrying out his constituency duties as a democratically elected Member of Parliament. He was extremely fortunate not to have been killed. Mr Timms, like all MPs, are entitled to fulfil their role without fear of violence. There can never be any justification for anyone carrying out such an attack."