 Family pay loving tribute to plane crash victim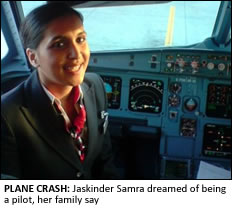 THE mother of a budding pilot who lost her life in a plane crash in America has urged parents to allow their children to follow their dreams
.
Former stewardess Jaskinder Kaur Samra was a passenger in a single engine Cessna Skyhawk which crashed in Georgia, Tennessee on 24 September.
The 21-year-old died instantly along with American pilot Abraham George.
Jaskinder's parents Mindie and Baljit Samra had hoped to see their daughter return to the family home in Wolverhampton in the pilot's uniform that Jaskinder had dreamed of wearing since a little girl.
Instead the family were left devastated when news of the crash filtered through.
Last month Jaskinder was laid to rest, with hundreds of mourners wearing the orange and black of the trainee pilots beloved local football club Wolverhampton Wanderers.
Today, Jaskinder's parents urged others to let their children follow their dreams – before it's too late.
"I wanted to see my daughter coming home in her uniform, I didn't want her empty uniform to be sent back to us," Mindie said.
"There's no one in this world like our daughter. I'm not saying that because she was our daughter, but it's the truth. She was amazing and made her dream come true. Every parent should let their child fulfil their dream, no matter how small or big because you never know what may happen."
Jaskinder's father, Baljit, said everyone his daughter had done the family proud.
"I'm so proud of my daughter; she did everything to make us happy and proud. She's always used to say dad 'I'll be coming home soon as a pilot', but my daughter's never coming home now," Baljit said.
Brother, Ranjit added: "Not many people will achieve, or even get to see the places Jaskinder went to in their whole lifetime. My sister travelled the world. My sister has left with her head held up high, and has made her family and friends so proud."