 Gulamyr Akhter jailed for life for murder of Asha Muneer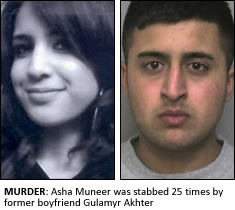 A TEENAGER who brutally murdered his ex-girlfriend after she ended their relationship has been described as "evil" by her devastated family.
Student Asha Muneer was stabbed more than 25 times by former boyfriend Gulamyr Akhter on January 18.
The 18-year-old was making her way home from her part time job at Laura Ashley when she was killed on a footpath in the Katesgrove area of Reading.
He stabbed her repeatedly with a kitchen knife and left her body by a riverside path in an underpass next to the A33, just south of Reading.
Asha was found by a jogger, who initially thought her mutilated body was a bag of rubbish.
Today Akhter, described by police as "manipulative" and "controlling" was jailed for life and told he would serve a minimum of 20 years in prison.
Asha's devastated family, who sat through the four week trial at Reading Crown Court, described Akhter as "evil", adding they had "lost everything" since the murder.
In a statement released following the verdict, they said: "We have been torn apart by the loss of Asha, who was a beautiful young lady who had so many dreams and hopes for her life, now those dreams will never come true all because of one man's pure evil and jealousy eaten up with rage.
"Because of this man we have lost everything and as a family the pain and suffering we feel only gets worse as days go by.
"The trial has been a terrible ordeal for us all but we are happy to see that justice has been done."
Jurors were told Asha had ended her relationship with Akhter some six months before she was brutally murdered.
But in the two weeks before her death Akhter bombarded her with more than 200 calls and texts – some threatening.
Det Supt Karen Trego, who led the investigation, said: "This was a determined attack which left a young girl dead and has caused a family to suffer the loss of their much loved daughter.
"Akhter has shown no remorse for killing his former girlfriend and his denials of any involvement has forced Asha's family to endure a lengthy trial.
"Asha's family have maintained a quiet dignity between her death and the trial and they have asked for some privacy to come to terms with what has happened."
CPS prosecutor Alan Blake described Akhter as "manipulative" and "controlling" saying he had lied to police, giving them a false alibi and then sought to cover up his actions by burning his clothes.
But Mr Blake said the evidence against Akhter was "overwhelming; there was CCTV footage, witness accounts and mobile phone call and cell site analysis."