 Birmingham schoolgirls rub shoulders with teen heart throb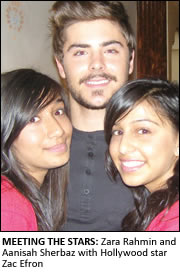 FOR many teenage girls, it's the stuff of dreams – but for two Birmingham schoolgirls meeting American heart throb Zac Efron was more reality than fantasy.
Zara Rahmin and Aanisah Sherbaz, both 14 and from Birmingham interviewed Zac and film director Burr Steers about their new film The Death and Life of Charlie St. Cloud.
The girls were given the opportunity national education charity Filmclub which launched a Young Ambassadors scheme, to provide young people with the opportunity to get an insight into life behind the camera.
The scheme gives youngsters like Zara and Aanisah the chance to interview actors and film-makers, report from the red-carpet at film events, review films at preview screenings and act as spokespeople for the organisation.
The charity hopes the experience will offer an insight into life behind the camera, and show young people across the country that the world of cinema is within their reach.
Both Zara and Aanisah have now put their interview with Zac Efron on YouTube.
Zara said: "The main goal of the interview was to make them laugh – we didn't want to be as boring as all the other interviewers! And I think we did exceptionally well.
"Zac Efron gave Filmclub some film recommendations and told us he was he was excited to meet us! Burr Steers has simply become one of my all time favourite directors. After the interview began, and even though it was our first time, we were told we had done better than the other interviewers.
She added: "The day was so amazing and definitely set the tone for things in the future! How many people in the country can say that they interviewed a global superstar alongside some of the biggest names on TV?
"If there was one word to describe the whole experience 'amazing' is what it would have to be!"
Filmclub offers children free weekly access to thousands of classic and popular films, as well as access to film industry news, screenings and talent.
More than 5,000 schools and 160,000 young people have joined the nationwide scheme.
For more information on Filmclub and the Young Ambassadors programme, go to
www.filmclub.org
.