 Bollywood star holds film launch in South London restaurant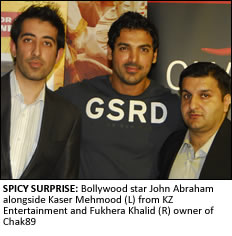 DINERS at a south London got more than they bargained for when Bollywood star John Abraham arrived to launch his new film.
The Bollywood heart throb posed with stunned diners at Indian restaurant Chak89 just moments after wrapping up a press conference, organized by KZ Entertainment, to launch his forthcoming film Jhootha Hi Sahi.
Young girls at the restaurant were unsurprisingly thrilled at meeting their idol.
Whilst one female fan cried tears of joy afterwards, another fan who had a picture taken with the muscle bound star, almost passed out after she met her idol.
"I can't believe it! I went out for dinner and ended up meeting my all time favourite hero. He is the most gorgeous man in the world," said stunned diner Faiza Ahmad.
For Chak89 owner Fukhera Khalid however having a Bollywood star in the restaurant wasn't a big deal – because he's been inviting them to his restaurant for years!
"My aim to take film stars to the heart of the Asian community," Khalid says.
"Shah Rukh Khan and now John Abraham have been here. Although in the past we have had Jay Sean, Rahat Fateh Ali Khan, Vivek Oberoi, Abrar Ul haq and Imran Khan to name a few at Chak 89.
"The aim to get a lot more Indian film stars here," he added.
John's latest film Jhootha Hi Sah, is released in the UK on 22 October, and fans will get to see the actor play a rather less than flattering character.
"When I was told that I have to shave, wear glasses and not go to the gym, I told my director Abbas that I am really worried because people know me for the physicality," he admitted.
"But after I saw Jhootha Hi Sahi, I just gave Abbas a huge and said thank you. I've seen the film and have no doubt people will love the look. I'm worried people will like it more than anything else."
The film revolves around a geeky guy who gets caught up in a web of lies when he tries to impress a woman. When John was asked if he endorsed lying the actor said: "To get your love, sometimes you have to lie a little. We call them white lies so no one gets hurt."