 Birmingham communities to receive a boost as funding supports social projects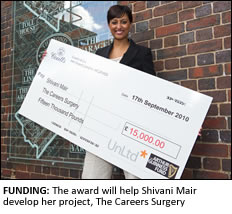 A MIDLAND entrepreneur is quid's in after securing funding to help empower youngsters.
Shivani Mair, from Pennfields, Wolverhampton won a £15,000 Development Award from the Arthur Guinness Fund Award to help develop her project The Careers Surgery.
The project aims to help people understand their strengths and explore their options through activities such as coaching, careers workshops and interactive digital learning resources.
Shivani will use her funding to provide interactive careers guidance, supporting people to make decisions about their career options, rather than directing them into a career for life.
Over the next twelve months, Shivani hopes the project will build upon its existing links and create effective learning resources for local people in Birmingham and Wolverhampton.
"It's great to get support and funding for a project that I'm so passionate about," Shivani said.
"The funding, strategic support and skill development that I'll receive through The Arthur Guinness Fund Awards programme with UnLtd will help me to build my project and really make a difference in the local community. I can't wait to get started."
The Arthur Guinness Fund Awards are part a global fund from Guinness & Co, born out of Guinness' 250th celebrations last year to support programmes and projects around the world that enable and empower people with the skills and opportunities to deliver a measurable benefit to their community.