 Boxer returns from Oxfam trip to affected country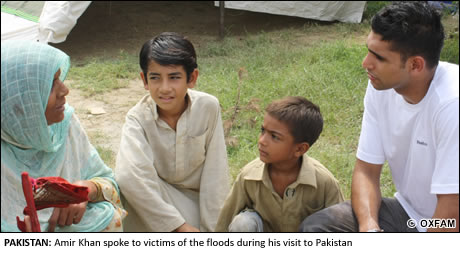 WORLD champion Amir Khan was left stunned at the scale of devastation in flood stricken Pakistan.
The Bolton boxer flew out to the country with aid agency Oxfam to witness first hand the damage caused by the country's worst flooding in 80 years.
Over a thousand people were killed and an estimated 18 million affected.
Amir has been appealing for help since the outbreak of the floods over a month ago but nothing prepared him for what he witnessed while visiting the town of Charsadda, in the province of Khyber Pakhtunkhwa, where millions of lives have been devastated.
"You don't realise the reality of this disaster until you're here talking to people who have been left with nothing," said Amir. "It's really upsetting to see the extent of the devastation but the people I'm meeting are extremely tough and are finding ways to survive against the odds. They need our help as they start rebuilding their lives."
Over £20billion of damage has been caused to infrastructure and agriculture throughout the affected regions, with water born diseases set to claim many more lives over the coming months unless clean drinking water and supplies reach those suffering.
"When you're living in a tent or a school, the importance of clean drinking water cannot be underestimated. Providing people affected with clean water is crucial if they are to avoid disease," Amir said.
"I saw myself that money is reaching people who really need it but they will need help for some time to come. I plan to dedicate my next fight to the victims of the Pakistan flood," he said.
Oxfam, who have been one of the front-running charities in raising awareness about the floods, were also quick to praise Amir for the work he has undertaken in helping them to do that.
Raakhi Shah, Oxfam's UK artist liaison manager, said: "Oxfam is really grateful to Amir Khan for being so dedicated to raising the awareness of the plight of the people affected by the floods in Pakistan. He has worked tireless over the last month to raise awareness of the situation and call for more funds to support the relief effort.
"During his recent trip to the flood areas with Oxfam he was visibly moved by what he saw. He has shown genuine commitment to not only raising awareness of the floods but also to supporting those affected to rebuild their lives over the long-term."
Amir is keen to keep supporting appeals for the victims and is adamant that this will continue for as long as it takes to restore the country back to its previous state.