 International Development Secretary meets city's Pakistani commuunity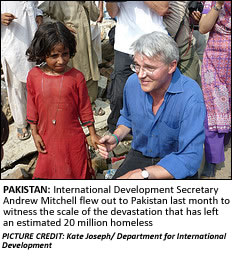 THE Secretary of State for International Development Andrew Mitchell has reassured Birmingham's Pakistani community that the current scandal surrounding Pakistan's national cricket team won't affect compassion shown by British people towards flood victims.
The Sutton Coldfield MP spoke at a BBC WM debate at the Attock Cricket Club in Mosley about the floods which have devastated Pakistan.
Speaking to members of Birmingham's Pakistani community he touched on recent corruption events involving three Pakistan players which have shocked the cricketing world.
The Sutton Coldfield MP said that while the cricket shame was untimely, it not a matter of life or death.
"Everyone in Britain should accept what people in Pakistan have said that cricket lovers in both Pakistan and Britain are deeply dismayed by this and people in Pakistan and Britain equally are committed to the task of re-building Pakistan after these terrible events," he said.
Mr Mitchell travelled to Pakistan last month to witness the scale of the devastation that has left an estimated 20 million homeless.
He justified the large amounts of aid donated to Pakistan by Britain as a moral obligation and praised the generosity of the British public in donating over £40m to the DEC appeal for the victims of the floods.