 Detectives continue investigation into murder of Shafilea Ahmed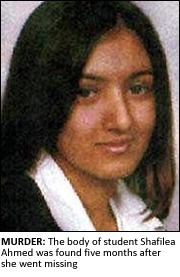 THE parents of suspected honour killing victim Shafilea Ahmed have been re-arrested in connection with her murder.
The 17-year-old disappeared from her home in Warrington, Cheshire, in October 2003, sparking a major police search.
Her decomposed remains were discovered in Cumbria five months later.
Shafilea's father Iftikhar, 50, and mother Faranza, 47, were initially arrested on suspicion of kidnapping in 2004 but the Crown Prosecution Service had insufficient evidence.
The arrest comes just days after another of their daughters was arrested on suspicion of masterminding an armed robbery at the family home.
College student Shafilea was reported missing in September 2003 by a teacher at Great Sankey High School where she studied.
Police investigations into her disappearance found Shafilea had travelled to Pakistan where she rejected an arranged marriage partner. She had also swallowed bleach, badly scarring her throat.
Her father later denied any arranged marriage and claimed his daughter drank the bleach during a power cut, thinking it was a bottle of fruit juice.
Her dismembered body was found five months later in the River Kent near Sedgwick, Cumbria, 70 miles away from her home.
Police said the corpse was deliberately hidden and was dumped there very shortly after she went missing.
In January 2008, an inquest coroner said Shafilea was the victim of a 'very vile murder' as a recorded a verdict of unlawful killing.

A spokeswoman for Cheshire Police said: "A 50-year-old man and a 47-year-old woman were arrested … on suspicion of the murder of Shafilea Ahmed."