 Thrillseeker takes up Rally challenge for Pakistan Flood Victims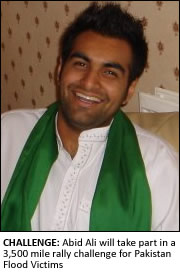 HUDDERSFIELD thrillseeker Abid Ali is facing a challenge and adventure of a lifetime as he gears up to drive over 3,500 miles in aid of the Pakistan Flood victims.
Abid will take part in marathon trek through Europe this October as part of the Andalucian Rally.
Billed as an 'adrenaline fuelled charity banger rally', Abid will drive from London through France and Spain, and on into the heartlands of Andalucia covering Seville, Cordoba and Granada, exploring European Heritage – all in a car worth less than £400!
While the challenge guarantees excitement and exhilaration, for Abid the reason behind his adventure is far more serious as he aims to raise over £2,000 to help victims of the Pakistan flood.
With millions suffering in the South Asian country, people across Britain are being urged to dig deep to help end their suffering.
For Abid the money he raises will go along way for people who have been left with nothing.
"I've never driven this amount in a month, let alone a week!" says Abid.
"The appeal is to help people in Pakistan with life-saving items – tents, blankets, food packages, bed sheets, water purification tablets. After which, money will go to clearing away mud and landslide debris and restoring the local infrastructure."