 Desperate times for survivors as aid agencies continue relief effort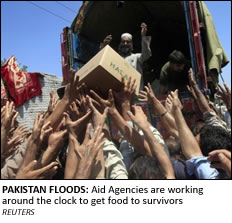 THE Disasters Emergency Committee has launched its appeal for donations to help people affected by floods in Pakistan.
The country has been hit by the worst floods it has seen in 80 years with over a thousand people having lost their lives and millions more affected.
DEC has set up a hotline to the group of 13 UK humanitarian aid agencies while special broadcasts will run on television and radio from Thursday.
Aid agencies are warning of a serious risk to survivors from potentially deadly diseases which will spread as a result of contaminated surface and drinking water.
Today Islamic Relief, one of the DEC affiliated aid agencies on the ground in Pakistan, revealed His Royal Highness The Prince of Wales had sent a message of support to the charity along with a generous donation for the victims of the Pakistan floods
Jehangir Malik, UK Director of Islamic Relief said: "We are honoured to receive such generous support from HRH The Prince of Wales who has long been a supporter of Islamic Relief. We have staff tirelessly working on the ground in Pakistan around the clock to bring vital aid to the areas devastated by the floods. There is still much to be done."
Aid worker Jehangir Malik from Islamic Relief is currently in Pakistan assisting with the relief effort.
He met with survivors in Nowshera which was one of the worst affected areas.
"I met with people in a college site in Nowshera which is being used to accommodate displaced people. Around 1,000 people have been registered, they have no belongings, only the clothes they are wearing," he said.
"Every person has a story to tell. Some of the women, the elderly and vulnerable young children told me that when the floods came, they rushed to the top of their houses waiting for the air rescue, but it never arrived. So they ended up sleeping on their roofs. And they are the lucky ones. Others have seen their loved ones washed away with their homes.
"Some people have seen their livelihoods destroyed in front of their eyes. It's a desperate situation, but the people are not showing signs of desperation. They are being incredibly patient."
Elsewhere The British Red Cross has already released £50,000 from its Disaster Fund to provide immediate relief to survivors. Tesco has given £20,000 to the charity's Pakistan Floods Appeal and The Freemasons' Grand Charity has donated £25,000.
Neva Khan, Oxfam's Country Director in Pakistan recounts what she saw during her drive through Peshawar following the Pakistan floods.
"I regularly travel to Peshawar for meetings but my drive to the city this morning was a grim reminder that more needs to be done to help those who have lost everything during these floods. The drive to Peshawar is usually very scenic but today both sides of the road were covered with families and whatever little belongings they had left.
"On our way back, we saw many people gathered on the road, fighting to get tents for temporary shelter. Very few were successful. It made me realise how we consider a tent an item but for most of these people, it is the closest thing to a home at this point.
"Over 3 million have been impacted by these floods and 1400 have been killed. More needs to be done and time is running out. Oxfam is working as quickly as possible and our relief operations have started in Swat, Noshera, D.I.Khan and Dadu."
Oxfam is appealing for approximately £4 million to reach 400,000 people with clean water, sanitation kits and hygiene supplies. The agency said as well as responding now it will also help boost recovery over the long-term.
Elsewhere aid Workers from Save the Children have had to use donkeys to get medical aid to families cut off in the remote northernmost parts of the Swat Valley.
Matt Wingate, from Save the Children, said skirmishes were breaking out amongst survivors desperate for food.
"Families are stranded and desperate for food," Matt Wingate, Save the Children UK's Emergency Response leader said. "There are 40,000 children in the region, many of whom are already going hungry. We're delivering aid as fast as we can but are hampered by the conditions. When aid does get to them the atmosphere can be very tense. There is a critical need to get more clean water, food and medical assistance to thousands of children and their families in the next few days."
Children are always the most vulnerable in disasters like these. Matt Wingate says, "Children are particularly susceptible to diseases like cholera, malaria, dengue and respiratory infections if they do not get sufficient food. We're already seeing outbreaks of all of these diseases and we're very worried there could be an epidemic of cholera any day now."
The DEC's automated donation line is 0370 60 60 900 and the website is
www.dec.org.uk
.