 Grieving son speaks out as men are jailed for life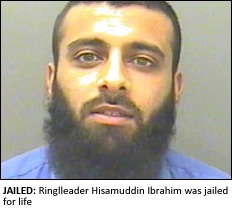 FOUR men who murdered a couple after firebombing the wrong house in a suspected honour killing have been jailed for life.
It took a jury at Preston Crown Court less than two hours to find Hisamuddin Ibrahim, 21, Mohammed Miah, 19, Habib Iqbal, 25, and Sadek Miah, 23, guilty of the murders of Abdullah and Ayesha Mohammed.
The couple died following the arson attack on their home in Blackburn last year.
Their two young children, a 14-year-old son and nine-year-old daughter, survived the attack. Police said it was a "miracle" that the youngsters survived the fire which "completely ravaged" their home.
Preston Crown Court heard how the gang had travelled 250 miles from London with the "sole intention to kill." The men had planned to firebomb the house of a Muslim man who was having an affair with arson ringleader Hisamuddin Ibrahim's married sister. The man lived on the same street as Abdullah and Ayesha Mohammed. Tragically they hit the wrong house.
Ibrahim was sentenced to life and told he would serve a minimum of 28 years in prison.
His accomplices were also jailed for life with Iqbal to serve a minimum of 25 years in prison, Sadek Miah a minimum of 21 years and Mohammed Miah a minimum of19 years in prison.
Speaking after sentencing, the couple's eldest son paid tribute to his parents who he called "the most loving kind and selfless people you could ever meet."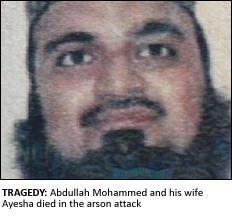 Ashraf Mohammed, 19, had been away at university when tragedy struck.
He said: "My father was a true gentleman who touched the hearts of many around the world whether young or old, rich or poor. He was an inspiration to everyone around him and an invaluable asset to the community.
"Those who were close to my father will tell you that he was always jolly, cheerful, extremely approachable and a great friend. He always had time for others and was never shy to offer a helping hand. In short, he was an irreplaceable part of the family with unparalleled qualities and was loved by one and all.
"My mother was also a very friendly and caring lady who had a heart of gold. She was extremely kind and gentle and was always seen with a smile on her face.
"There isn't a day that goes by in which our family does not remember my parents and their loss has left an empty place in our hearts that can never be filled."
Lancashire Constabulary launched one of the biggest murder inquiries ever undertaken by the force following the house fire on London Road in Blackburn on October 21st last year.
Police were called to the scene by the Lancashire Fire and Rescue Service in the early hours of the morning.
Mr Mohammed died shortly after arriving at the Royal Blackburn Hospital, while his wife died a week later after failing to overcome her injuries.
Over 590 statements taken and 1,486 lines of enquiry followed by more than 100 police officers who worked tirelessly to bring the culprits to justice.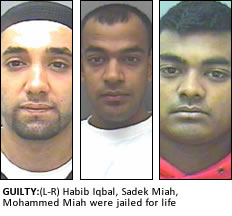 Senior Investigating Officer, Detective Superintendent Neil Hunter described the attack as "premeditated, well planned and wicked offence", committed by "four evil young men."
"The despicable actions of the persons responsible have devastated a family and a community and robbed three children of the love and affection of their parents for evermore," he said.
"I have nothing but contempt for those responsible as even faced against compelling evidence they still attempted to hoodwink the jury by telling a tissue of lies, time after time, thankfully, they saw through their pathetic attempts.
"It is very difficult to understand how people can not only go and commit such a heinous offence but to get their intended target so tragically wrong. The Mohammed's were the victims of mistaken identity and that must be very difficult for the family to accept or understand. They have been brought into another family's dispute with devastating consequences.
"There has been much talk during this trial that this crime was committed as the result of so-called honour. There is no honour in killing innocent people; it is murder pure and simple."
Det Supt Hunter also paid tribute to the couple's three children saying they were "some of the loveliest people" he had ever met.
Joanne Cunliffe, Crown Advocate from Lancashire CPS, added: "All four of these defendants bear equal guilt for the murders – the three men who were directly responsible for starting the fire and Hisamuddin Ibrahim
who put them up to it. It was a planned and callous attack. They deliberately started a fire that would take hold very quickly in the middle of the night when the occupants of the house would be asleep and there would be no-one around to raise the alarm.
"Since that night they have all tried to evade justice by lying about their involvement, claiming that they only played a minor part in the events or blaming each other. The jury has seen through those lies and evasions and delivered guilty verdicts for murder today and I am pleased that justice has been done for Mr and Mrs Mohammed and their family."