 Detectives reveal fire was 'started deliberately'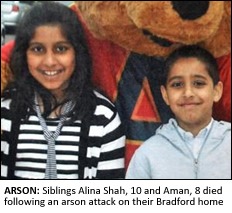 THE aunt of two Bradford children killed in an arson attack on their home has made an emotional appeal for information.
Nadia Naqui fought back tears as she described Alina Shah, 10 and Aman, 8, as "angels".
The children died after a fire engulfed their home on Hendford Drive in the Pollard Park area of Bradford in the early hours of Tuesday 6th July.
Alina was pronounced dead at the scene and Aman died shortly after he was rushed to hospital.
Forensic post mortem examinations found the siblings died as a result of inhalation of fumes from the fire.
Their mother, Iram Shah, 30, was rescued by neighbours who rushed to the house after hearing her screams for help. She suffered severe burns and remains critically ill in hospital.
Speaking at a press conference organised by West Yorkshire Police Ms Naqui said the children's mother was still unaware of their deaths.
"Aman and Lina my niece and nephew were recently taken away from us. Their smiles will be with us forever. Someone chose to end their lives before they had the chance to live theirs. They're mother is fighting for her life unaware that her children are no longer with us."
She said Aman inspired to be a footballer, while his sister Lina wanted to be a doctor. They were dreams she added that they "will never have the chance to fulfil."
She added: "Aman and Alina made me the proudest Aunty in the world as they were truly angels in every sense. Every father expects to be buried by their children but this is not the case for my brother. They were bright and talented and most importantly good kids. If anyone can help bring justice for our innocent children please come forward."
Detectives investigating the deaths confirmed today the fire was started deliberately.
Police believe petrol was used to start the fire.
Detective Superintendent Bill Shackleton said: "Whoever brought the accelerant to the scene would have needed to carry it in a can or a small container. It is also known that the person setting this fire brought with them a quantity of paper. The paper has a strong resemblance to the plain paper used to wrap fish and chips.
"My appeal today is to anyone who has any information about the fire to come forward. In particular we are seeking anyone who may have seen an individual or a small group acting strangely in the vicinity of Hendford Drive between half past midnight and a quarter to one in the morning of Tuesday 6th July. Perhaps somebody was seen carrying some sort of container or paper as I have described.
"We also need to speak to anyone who may know if there is any reason why the Shah family would be attacked in this way.
"It is crucial we establish all the facts in this case."
A 21-year-old man who was arrested on suspicion of murder remains in police custody.
Police also confirmed an 18-year-old man was arrested on Thursday is currently in custody.
Anyone with information about the fire is asked to contact the Homicide and Major Enquiry Team at Bradford on 01274 376575 or you can text 07786200805 start your message with the word FIRE.