 Tax fraud duo ordered to repay over £92m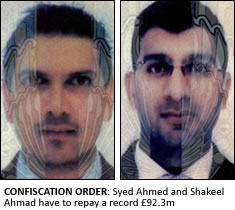 TWO members of a 21-strong criminal tax fraud gang have been ordered to re-pay a record £92.3 million in the biggest ever confiscation order secured by HM Revenue & Customs (HMRC).
Syed Ahmed and Shakeel Ahmad were part of a 21-strong gang that stole more than £37 million in a complex VAT scam but now face a bill of more than double that.
The pair, who are currently serving seven-year jail terms, have been given two months to meet the confiscation order or face having an extra ten years put on their sentence.
The record bill is based on a series of assets bought by the gang at the height of their scam.
These include a luxury flat in Knightsbridge worth £4.5 million, a £1.5 million house in Buckinghamshire, high performance motorcars including a Ferrari 360 Modena convertible and a Mercedes 500CL, and two apartment tower blocks in Dubai now said to be worth a staggering £80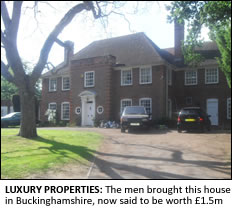 million.
Ahmed, of Buckinghamshire and Ahmad, of Middlesex, were part of a "missing trader" fraud that first began being investigated in April 2002.
It involved the dishonest manipulation of the VAT system through the import and export of computer processing units (CPUs).
The judge at the trail, held at Leicester Crown Court, Lord Justice Richard Flaux, called the defendants "complete liars", telling them "You are adept at using others in an attempt to make your activities legitimate."
He added they had created a "smokescreen" to hide the value of the assets.
Richard Meadows, Assistant Director of Criminal Investigation for HMRC, said:
"We are determined to bring to justice the criminals behind this type of fraud and take away the proceeds of their crime."