 Thrill seeker Haroon Mota in 24hr 3 Peak challenge…and he wants YOU to join him!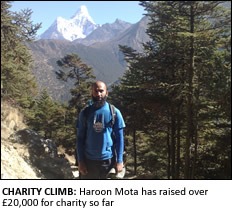 A COVENTRY daredevil is on a mission – to get the community climbing for charity!
Seasoned climber Haroon Mota will embark on the National 3 Peaks Challenge next month where he will aim to climb three of the UK's highest mountains in just 24 hours.
But he doesn't want to do the climb alone and wants fellow thrill seekers from the community to join him. All money raised from the climb will go to Islamic Relief's Orphan General Fund which supports orphans worldwide.
Haroon has already completed the 3 Peaks challenge twice before, but this time he'll do it racing against the clock.
In just 24 hours on July 23 Haroon and his team will drive a phenomenal 500 miles in between taking on the UK's highest mountains – Scotland's Ben Nevis, England's Scafell Pike and Snowdon in Wales.
Haroon has already recruited a number of determined climbers from Coventry and Birmingham for the challenge and he wants more to join.
He told The Asian Today how the lure of charity work has allowed him to trek some of the world's biggest mountains.
Haroon said: "I have been a volunteer for Islamic Relief for 3 years. Getting involved was quite a coincidence; I bumped into to a group of charity trekkers on my way down Snowdon in the summer of 2007, inspiring me to get involved so I combined my passion of mountaineering with my eagerness to help the needy. "Since then I have come a very long way. I have trekked to Mount Everest Basecamp, trekked the Mountains in South America whilst visiting the historic city of Machu Picchu in Peru, raised over £20,000 and made many new friends."
"Volunteering has given me a greater insight in to the world of poverty and famine; giving me a greater appreciation of life and all the luxuries that god has blessed us with. Unfortunately there are millions out there who are less fortunate than us, many children who have lost their parents, have no family and are left to struggle for survival.
 "I have done the 3 Peaks Challenge twice before as well but I am making this climb my own challenge to get other local people from the community to get involved. I want to raise awareness and engage others in rewarding charity work," Haroon added.
Those joining Haroon in the challenge will be required to raise a minimum of £750 through fundraising – but the challenge is well worth it.
Orphans across the world will benefit through Islamic Relief's Orphan General Fund which helps finance clothing, food, shelter, education and medical care.