 Interview with protest musician Ranvir Singh
WHILE the BBC Asian Network and 6 Music await their fate, a London musician took his protest at the BBC cuts a step further; walking from London to Birmingham…backwards!
As part of the four-day challenge, musician and Asian Network supporter Ranvir Singh Verma embarked on a 120-mile journey starting from London's BBC Centre, Portland Place, and finishing at The Mailbox, Birmingham, home of the BBC Asian Network.
We caught up with Ranvir moments after taking the final steps of his protest at Birmingham's Mailbox..
Ranvir you've just walked 120 miles from London's BBC Centre to The Mailbox in Birmingham, backwards….how do you feel?
Well I feel very elated to have completed it. I had an amazing reception when I got to Birmingham. There were lots of people to welcome me; it was a very touching and heartfelt welcome. On the physical side, my feet are very swollen and I have a lot of blisters upon blisters. At the moment all I am doing is resting, recouping my energy, eating lots of good food, relaxing and rehydrating. But above all I am very pleased and positive about it all.
Why backwards and not forwards?
I just felt that it was such a backward step to lose The BBC Asian Network. Walking backwards was more of a symbolic step than anything else. I wanted to make that statement; the prospect of closure was a regressive one and therefore I wanted to make a protest. 
Why are you so adamant to save the BBC Asian Network and 6 Music from closure?
For me that station is very unique. There is nothing like it in the world. It educates, informs, inspires and entertains. There is a diverse range of presenters and dj's like Bobby Friction, Nihal, Noreen, Tommy right down to Adil. The station has always pushed the boundaries compared to other commercial stations. Its closure would mean there will be a big gap of talent and massive drop in quality music and entertainment. As a musician, I really do appreciate what the likes of Bobby Friction do – he is an inspiration and his show is totally unique. I guess I wanted to give something back to the Asian Network as they have given me so much as a listener. Also I think that there is a great connection with the wider Asian diaspora. Asians worldwide look to the UK Asian music industry and again this is something that will be lost.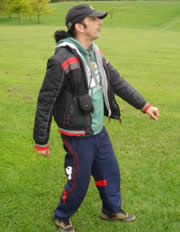 What do you say to those who think keeping the Radio open is a waste of money? It has after all had millions of
 pounds thrown at it over the last few years.
Everyone has their own opinions. The Asian Network does have some amazing talent – there presenters and dj's are the cream of the crop and you don't see that anywhere else. It is worth it for what we have. I do not look at this from a financial angle. But the quality of programmes is very high compared to television and other radio stations. You could use a similar argument for saying how much Dr Who or The Antiques Road show cost? I guess it depends on how you look at it. Is the glass half full or half empty? From my perspective, the BBC
Asian Network is a vital part of the British Asian scene and that is why I am so passionate and adamant. It is important for our children and the future too. It provides many things to many people on many different levels.       
How would you feel if the Radio station was axed?
Well it isn't over till it's over. I am a fighter so will keep on fighting. Never say never. I have the faith, hope and believe and the passion in my heart. People said that I wouldn't be able to do my walk, that it would be impossible. I am not one to lie down and give up. I will remain positive 100%. If other people have this attitude then we can really do something, we must champion the Asian cause.
Any other planned protests in the pipeline? 
Yes, I do have a few ideas simmering but I do not wish to say until they are confirmed. One of the main aims of my protest was to keep the issue on the agenda, in the public domain. Give a fresh new lease of life so to speak. The more people protest, the more your voice will be heard which is better. It is our voice so why should we let our voice be taken away? Asians have come a long way and worked very hard. But there is still a long way to go and lots of progress to be made. Look at sport – how many Asian footballers do you see? The talent is there, it is just about having the right platform to showcase it. And this is exactly what they BBC Asian Network provide for – a perfect platform for musicians, artists, presenters right through to their background staff.
Interview by Zeenat Moosa