 Teen guilty of killing ex-girlfriend and her sister in arson revenge attack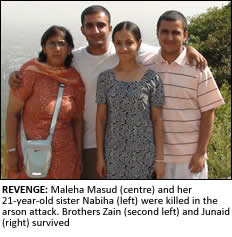 A JILTED schoolboy who set fire to his ex-girlfriends house killing her and her older sister has been convicted of their murders.
Akmol Miah, who was 14 at the time of the attack in June last year, even kept a picture of the burning house on his home computer's screensaver.
He was found guilty at the Old Bailey, along with 21-year-old Shihabouddin Choudhury.
The fire claimed the lives of his ex-girlfriend Maleha Masud, 15, and her 21-year-old sister Nabiha.
Their two brothers, Zain, 22, Junaid, 16, and mother Rubina, 53, miraculously survived the ferocious fire which gutted their house in Tooting.
Miah, from Croydon, and Choudhury from Nottingham were also found guilty of attempting to murder Zain, Junaid and Rubina.
The Masud family described their loss as a "life sentence without parole".
The poignant words came from Zain Masud who survived the house fire.
Speaking after the verdict, Zain said: "This has been a tragic event for the family of enormous magnitude. "The verdict was as we expected, however, this does not change the reality of our great loss. We have in effect been given a life sentence without parole and now must live with this."
During the six-week trial the jury heard how the motive for the fire was revenge by a bitter Miah who refused to accept his relationship with Maleha was over.
The two had been in a short and non-serious 'relationship' before the fire. When Maleha expressed a desire to end their relationship, Miah threatened her and her family, even making phone calls to the family home.
But Miah's desperation turned deadly when he began searching on the internet for ways to commit arson.
He recruited Choudhury and in the early hours of Sunday June 21 2009 they carried out their deadly attack.
The court was told Miah and Choudhury fled the Masud family home moments after pouring petrol through their letter box.
Inside, 53-year old Rubina Masud was woken by the sound of her eldest son, 22-year old Zain shouting 'Fire!' Flames were already on the landing outside the bedrooms but Mrs Masud managed to make her way to Zain's bedroom. Faced with raging fire and intense heat, she had no other option but to jump from the bedroom window.
On the ground outside she was met by Zain who had also jumped, however much to their horror they realised that Nabiha, Maleha and 16-year old Junaid were still trapped inside the house.
Fire fighters wearing breathing apparatus arrived and made their way upstairs to the bedrooms where they heard a voice calling for help.
They found Junaid first. He was breathing but had been badly hurt. He remained in intensive care for 45 days but survived.
Next they found Maleha who was curled up on her bed. She had stopped breathing. Paramedics resuscitated her at the scene but she never regained consciousness. She died three days later.
Nabiha was found in the front bedroom of the house, she had also been badly burnt and her lungs were seriously damaged by the fumes. Nabiha did stabilise but died in hospital on the 25 July.
T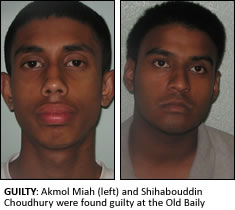 he following morning Miah returned to the scene of his brutal revenge act where he spoke to journalists pretending to be an upset friend of Maleha, the Old Bailey was told.
One journalist he spoke to became suspicious and contacted detectives.
Shortly after the fire, detectives aware of Miah's threats to Maleha and her family, went to his home address. During a search they found a petrol canister which contained the same type of petrol used to start the fire, they also found evidence that Miah had used the internet to search how to commit arson and found that his computer screensaver was an image of the Masud family's burnt out house.
Miah and Choudhury all denied any involvement in the fire and even made allegations against each other during the course of the trial.
However CCTV footage obtained by detectives showed the duo en-route to the Masud's family home on the night of the devastating arson attack.
DCI Damian Allain, from the Homicide and Serious Crime Command, described Miah's actions as "despicable".
"The Masud family are a loving, hardworking and high achieving family. Words cannot describe what they have suffered at the hands of Miah and Choudhury," DCI Allain said.
"They could have withdrawn at any time but chose to carry on, apparently led by a schoolboy. "This crime was despicable in the extreme and I hope that the verdict with the Masud family some degree of closure."