 Birmingham takeaway riddled with mice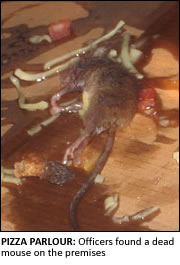 A PIZZA boss whose premises were so badly infested with mice that Environmental Health Officers from Birmingham City Council observed them eating discarded chips and running up and down a kebab rotisserie has been sentenced at Birmingham Crown Court.
Shahrar Abdolahi, 31, who ran East Pizza on Smallbrook Queensway, was sentenced to 36 weeks in prison, suspended for two years with conditions, and prohibited from running a food business.
He was also ordered to pay costs totaling nearly £14,000.
Mr Abdolahi changed his plea to guilty just before the trial was about to commence, for 12 counts of breaches of the regulations.
The offences related to three emergency closures due to there being an imminent risk of injury to health at the premises in 2008. 
In his defence,  Mr Abdolahi claimed he was not the Food Business Operator, however in court the Judge Justice P Farrer QC said that Mr Abdolahi "was wholly in control and that there were serious and sustained breaches of basic hygiene standards."
Mouse activity was clearly visible from outside the premises as officers observed mice running around the premises before entering; running across equipment including the doner kebab rotisserie and a mouse was seen in a sieve eating a chip.
When Environmental Health Officers visited the premises, Mr Abdolahi claimed that there was not a problem with mice, even though mice were found dead on homemade sticky boards and sometimes live mice were seen loose in the catering areas.
Mr Abdolahi was given 12 weeks imprisonment for each count but to run concurrently for each closure, but the sentence to run consecutively for the three closures and hence only 36 weeks in total. The sentence was only suspended for the fact that it was his first food offence although he had breached a suspended prison sentence for a road traffic offence.
Councillor Neil Eustace, Chair of the Public Protection Committee at Birmingham City Council, said
"This is a great result for us and for Birmingham. The premises were less of a food business and more of a banquet for mice.
"I am pleased to say that this behaviour is rare in Birmingham but we will ensure that food premises in Birmingham have the highest food hygiene standards and operators such as Shahrar Abdolahi are not welcome to do business in Birmingham.  The result is testament to the excellent work of our Environmental Health Officers."