 Ranvir Singh Verma to walk from London to Birmingham – backwards!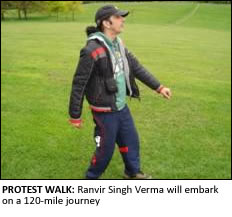 AS the BBC Asian Network and 6 Music await their fate, a London musician is taking his protest a step further; walking from London to Birmingham…backwards!
As part of the four-day challenge, Ranvir Singh Verma will embark on a 120-mile journey starting from London's BBC Centre, Portland Place, and finishing at The Mailbox, Birmingham, home of the BBC Asian Network.
Verma will start his protest journey on the day of the world's first Bhangra Flashmob held in London on Saturday 22nd May. It has been organised by a coalition of music artists and Asian music fans. Verma will join the large collective of musicians and protesters outside BBC HQ in London who will be expressing their anger at the station's potential closure.
Verma will then begin his backward journey to Luton over the course of ten hours, before embarking on a further three days through Northampton and Coventry, finally arriving at BBC Asian Network at The Mailbox on Tuesday 25th May.
Verma said: "I came up with the idea of walking backwards after hearing about Lotan Baba, Indian's famous 'Rolling Saint' who has rolled over 18,000 miles across India in a bid for unity and peace. His belief in penance is what encouraged me to devise this challenge."
"There are also many Native American communities that have one member that does everything backwards, including riding a horse. This acts as a reminder of the stupidity of humanity and the need to address our actions from time to time.
"The BBC's decision to close BBC Asian Network and 6 Music is a backwards step in their support for music, and that's why my walk is so symbolic. I am doing the walk alone but will welcome anyone that wants to join for all or part of the journey; this is all about coming together and making a stand against corporate decision-makers."
The announcement that BBC Asian Network and 6 Music may be disbanded has caused uproar across the UK's music industry, with immediate campaigns launched to save the two stations.
In March, a letter signed by many of the UK's best known British Asian celebrities and artists said that closing down the Asian Network was a "retrograde step" that would stifle competition and reduce choice for Asian listeners.
Verma hopes to build support for the 'Save BBC Asian Network and 6 Music' campaigns ahead of the public consultation closure on 25th May 2010.