 Disgraced Sudesh Madan sentenced to 18 months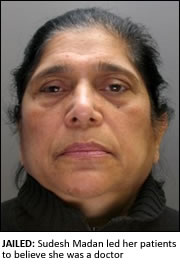 A DOCTOR who illegally sold slimming pills after she was struck off by the General Medical Council has been jailed today.
Sudesh Madan, 57, from Romford led customers to believe she was a doctor after prescribing controversial Phentermine and Diethylpropion slimming pills at a number of 'Easy Slim' clinics across the country.

In reality she had been struck off by the General Medical Council in November 2001.
Madan was jailed for 18 months at St Albans Magistrates Court after pleading guilty to four counts of possession with intent to supply a controlled drug and four counts of supplying a controlled drug.
She was arrested in December 2009 by Hertfordshire Constabulary's Serious and Organised Crime Group following an unrelated offence in which a woman told officers she had taken slimming pills prescribed by Madan. 
Warrants were executed at her home and at clinics in Welwyn Garden City, Hertfordshire, Harlow, Essex, Wakefield, West Yorkshire, Huddersfield, West Yorkshire and Barnsley, South Yorkshire.

Police recovered 24,599 Phentermine and 13,269 Diethylpropion tablets and capsules during the searches.
Police said Madan led her patients to believe that she was a doctor and would prescribe them the pills after a consultation.
A week's worth of pills, which could help suppress appetite, would typically cost £20, police added.
Detective Inspector Ian Butler said Madan had been "motivated by greed".
 "Sudesh Madan ran a large scale operation across the country, callously posed as a doctor and, without any care for her patients, prescribed these slimming pills, which could have put them at risk," he said.
"We believe her motivation was greed and we are determined to use our powers to remove any profits she made from her actions."