 Detectives still hunting Shahid Mohammed, eight years on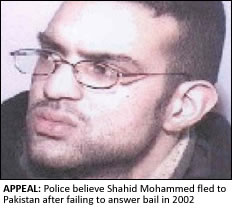 DETECTIVES have launched a fresh appeal to trace a man wanted in connection with a devastating house fire which claimed the lives of three generations of the same family eight years ago.
Shahid Mohammed failed to answer bail in connection with the house fire in Osborne Road, Birkby, Huddersfield, on 12 May 2002.
Eight people of the Chisti family – which included a 6 month old baby died in the fire.
Three men were jailed in 2003 over the fire after a Leeds Crown Court trial.
Police believe Shahid Mohammed may be living in Pakistan but know he has strong connections in Birmingham, Leicester and London.
The fire, which stunned the close knit community in Birkby, claimed the lives of Muhammad Ateeq-ur-Rehman, 18, Nefessa Aziz, 35, Tayyaba Batool, 13, Rabia Batool, 10, Ateeqa Nawaz, 5, Aneesa Nawaz, 2 and 6 month old Najeeba Nawaz.
54-year-old Zaib-un-Nisa lost her battle for life a week later in hospital.
Detectives have issued a fresh appeal on YouTube on the eighth anniversary of the arson attack.
Senior Investigating Officer in the case, Detective Superintendent Sukhbir Singh said the fire continued to cause the Chisti family "a great deal of distress and trauma", and urged anyone with information to "search their conscience".
"I call particularly on the family, friends and associates of Shahid Mohammed and the wider community to watch the video and consider the impact that this incident continues to have on the Chisti family," Det Singh said.
"People may have protected or assisted Shahid in evading arrest and I specifically want to appeal to them. We will continue to actively trace Shahid Mohammed working with national and international law enforcement agencies.
"If you do know anything search your conscience and consider whether you can live with that on your mind for the rest of your life. End the suffering for the Chisti family; even the smallest piece of information could assist us to locate Shahid Mohammed and move the investigation forward."
You can view the appeal
here