 Allah Karam jailed for six and a half years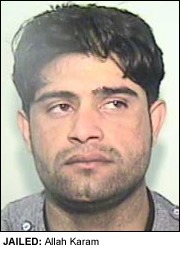 A MAN who threatened to rape a woman's foster son before forcing himself on her three times has been jailed for over six years.
Allah Karam, 29, described by police as a 'sexual predator' forced himself on his 36-year-old victim while her son slept in the next room.
He was jailed for six and a half years at Bolton Crown Court. He was found guilty at an earlier hearing to four offences of rape and one offence of perverting the course of justice.
The court was told he went to his victim's home in Bolton on 5 June 2009. After smoking cannabis Karam started behaving strangely and became increasingly aggressive.

He ordered the woman's teenage foster son to go to bed and asked her if he could have sex with her foster son.

He then gave her an ultimatum, either she performed a sex act on him or he would rape her foster son.

Fearing for her foster son's safety she complied with Karam's demands. They then went upstairs where Karam raped her three times.

Following the incident Karam made his victim pay for his taxi and ordered her to pay him £500 the following day. When he left his traumatised victim called police.
During police interviews detectives also linked him with a sexual assault on a young Bolton girl.

He also raped a former partner only days after the birth of his child, knowing she was medically prohibited from sexual activity.

Detective Constable Steve Cummins, of Bolton CID, said: "Karam is a sexual predator who takes advantage of vulnerable women.

"He clearly thought he was entitled to take what he wanted from these women and thought no-one would intervene.

"This good result would not have been possible without the bravery of the victims who had the courage to tell the police."