 Meet Sabirul Islam – The teen who has the World at his Feet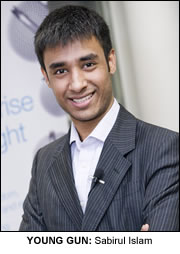 GROWING up in Tower Hamlets, just 10 minutes away from the City and Canary Wharf, you'd be forgiven for thinking Sabirul Islam lived a life of luxury.
Despite being so close to the financial heart of London, Tower Hamlets is a borough that sees crime and violence as "a way forward".
A young entrepreneur since the age of 13; speaker and author of bestselling book 'The World at Your Feet', 19 year old Sabirul Islam encourages young people to recognise their own entrepreneurial potential.
"Being 19 isn't a barrier for me; it's actually what drives me to take opportunities because I believe in making the most of the talent I hold as an individual in order to bring the world to my feet." 
Aged 13, he was given the chance to work in his cousin's business, but was fired after just two weeks. It was this moment of failure which he looks at now and sees as a crucial turning point.
"I spent two weeks thinking it was an easy ride. Then I got a letter saying 'Dear Sabirul Islam, You're fired.' I was angry but thought I'd show him it was the biggest mistake of his life."
At the age of 14, he started his own business designing websites, which won Best Young Enterprise Inner East London Company making him a 'thousandaire'. "I thought I could retire on the money!" says Sabirul.
His drive impressed Merrill Lynch so much they invited him to learn the basics of investment by watching live trading in New York for three months. Aged 16, he went on to work in the London Stock Exchange.
"My parents were on government benefits and I was making money. You don't have to be born with a silver spoon in your mouth or have rich parents."
Sabirul is continuously been approached by young people asking how he achieved his success at such a young age. This inspired him to write 'The World at Your Feet' aged 17.
"The book encourages all young individuals to follow their dreams and turn their entrepreneurial ideas into reality by working on his 'three strike' philosophy – Intensity, integrity, intelligence."
Initially self published, it sold just over 42,500 copies – outselling Peter Jones' autobiography. The publishers who had originally rejected him now came back with offers. He accepted Marshall Cavendish, taking the book global.
Still hungry for success he set up his own company, giving speeches worldwide, and released a board game called 'Teen-trepreneur'. Later that year, Sabirul won the Mosaic Entrepreneur of the Year Award, an award recognizing his success as an entrepreneur within the Muslim community. This still wasn't enough.
"I started young and can be more successful. Duncan Bannatyne was 29 when he started. I want one day to push him off that Dragons' Den seat and sit there myself."
In 2009, he flew to Nigeria for his highest profile engagement, where he was invited to speak at an enterprise summit by the wife of Nigeria's First President. Over 3000 young budding entrepreneurs attended. Sabirul received emails thanking him for inspiring them to write books of their own.
"One author had acknowledged Barack Obama, Luther King and other big names. Ahead of all of them he named me as his main inspiration. Me? A 19 year old? Money can't buy that."
Not one to rest for long, Sabirul is creating a Cbeebies series and an advice website 'Twayf', putting young people in contact with investors.
"All of my success started with me waking up at 10 o'clock and turning on my laptop by my bed." Sabirul admits. "If my cousin hadn't fired me I'd be working in McDonald's stuck in the negativity in Tower Hamlets. Instead, I've made a brand within myself and I can't wait to see what else I can do with that."
By Jo-Anne Rowney