 Actor reunited with director Sajid Khan for 'Houseful'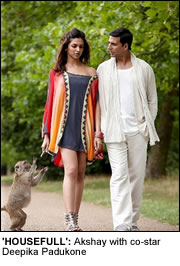 BOLLYWOOD superstar Akshay Kumar returns to our screens for the first time this year in the romantic comedy 'Houseful'.
Co-produced by Eros International,
'Housefull' was filmed on location in UK, Italy, Hong Kong and India.
The film centres around 'Aarush' (Akshay Kumar) the world's unluckiest man. Being jinxed, he believes his bad luck can vanish if he finds true love. In his quest, one lie leads to another and different people from different walks of life come together, adding even more confusion to this hilarious comedy of errors and resulting in total chaos and mayhem.
'Housefull' reunites Akshay Kumar with director Sajid Khan once more, following the huge Box Office success of
'Heyy Babyy' in 2007.
Audiences can be sure to expect a rollercoaster ride of non-stop entertainment as the duo take their magical screen formula to even greater heights in 'Housefull'. 
'Housefull' will be released in the UK on 30th April 2010.