 Investigation being 'overseen at the highest levels in Pakistan Government'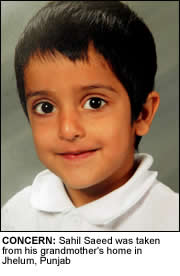 THE investigation into the kidnapping of British youngster Sahil Saeed is being "overseen at the highest levels in the Pakistan Government", the Foreign Office has claimed.
The five-year-old from Oldham had been due to fly back to Britain with his father just hours before he was snatched by gunmen at the family home in Jhelum, Punjab on 3 March.
The kidnappers have made little contact with the young boy's family since demanding an initial £100,000 ransom.  
There are fears the high profile media coverage both in Pakistan and Britain on the kidnapping may have forced them underground.
Consular staff from the British High Commission in Islamabad are in close touch with the Pakistani police investigation which has been hit with controversy after five officers were suspended for not responding to the family's initial emergency call.
But the Foreign Office said the case had reached the hierarchy of the Pakistan government.
"Our thoughts are with Sahil and his family at this extremely distressing time," a statement said.
"Consular staff are continuing to provide support to the family, both in the UK and Pakistan. Our High Commission in Islamabad is also in regular contact with the police officer leading the investigation.
"Pakistani police are conducting vigorous enquiries and we know Sahil's case is being overseen at the highest levels in the Pakistani Government. The Foreign Secretary is following the case closely and is receiving regular updates from the British High Commission. We call on whoever is holding Sahil to return him to his family."
Sahil mother, Akila Naqqash, 31, has continued to make appeals for her son's safe return from her home in Oldham.
She has pleased for Sahil's return saying she would forgive her son's captives if they release him.