 Religious teacher Atta Ur-Rehman caged for six years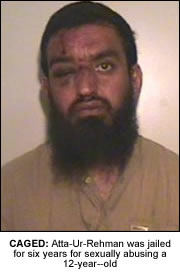 A RELIGIOUS teacher sexually abused a 12-year-old boy – and then tried to justify what he had done by telling his victims furious parents 'All men make mistakes'.
Atta-Ur-Rehman, 38, from Sheffield was jailed for six years this week after sexually abusing his 12-year-old victim during a religious lesson at the boys' home in Rochdale in May 2009.
The court was told the victim was alone with Ur-Rehman in the study of his family house in Rochdale, while he was giving the boy Quran-reading lessons, when he was abused.

The boy, who was upset and embarrassed, told his mother about what happened, and his parents decided to confront Ur-Rehman with the allegation.

Ur-Rehman at first feigned ignorance, but then asked the boy's parents for forgiveness – sensationally claiming that 'all men make mistakes'. 
The boys' furious parents immediately contacted the police.
Detective Constable Kirsty Simcox said praised the young boy for his "immense courage" in reporting the abuse.

"Ur-Rehman abused the trust the victim's parents placed in him in the most terrible way. It has been a horrific experience for the boy, and I hope that he and his family can move on from this after today," she said.

"The boy showed immense courage to confide in his mother, and thankfully his parents then came to the police to ensure justice could be done.

"I hope this case sends a clear message that any report of abuse will be fully investigated by trained officers."