 Fans and presenters of the station turn to Facebook as BBC confirm it faces axe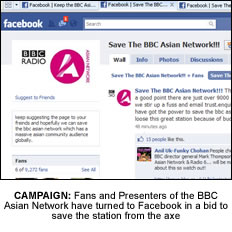 DISGRUNTLED fans and presenters of the BBC Asian Network are turning to social networking website Facebook in a bid to save the radio station from the axe.
Nearly 10,000 people have signed up to 'Save the BBC Asian Network' while another page, 'Keep the BBC Asian Network' was created by several staff members including presenters Bobby Friction and Sonia Deol.
It comes after BBC Director General Mark Thompson today confirmed proposals have been put forward to close the radio station as early as 2011.  
The move marks a strategic review of the corporation by Thompson who announced the details following a news report in the Times last week which claimed to have seen leaked documents detailing the changes.
In the review Thompson said the Asian Network, which has annual running costs of £12.1 million, had "lost 20% of its listeners over the past three years," and as a result it appeared "insufficient to justify the level of BBC investment as a network radio service."
Understandably news of its imminent demise was met with fury with fans flocking to Facebook to voice their disapproval.
One fan said: "I think the Asian network sets the standards for us, the music we listen to down to the kind of clothes we wear! It's all there. Also all the different shows it has to offer from Bobby Friction to Punjabi hit Squad to DJ Kayper, Adil Ray and much more! Local radio won't cut above Asian Network…Asian Network is the Real deal for Asians of all ages!"
Another fan added: "BBC Asian Network provides a service for and acknowledges the existence of a huge number of south Asian license fee payers. It is one of the few clear ways that this country provides a space and service for a community that has been here for generations and is an integral part of the British experience."
The BBC could, however, replace the station with a
network of five part-time local services with some syndicated national Asian programmes.
These would be available on local DAB and local medium wave radio serving areas with the largest British Asian communities.
But it's a move which isn't being met with any enthusiasm – especially from those who work at the Asian Network.
"No matter what happens I'm ready for a fight," says presenter
Dipps Bhamrah.

"I was a listener back in the early 90's before I became a presenter and for me this would be loosing everything I know! This is my station, I grew up listening to this station, I'm proud of what we do and we are not going down without a fight."