 Football commentator Martin Tyler backs Birmingham kids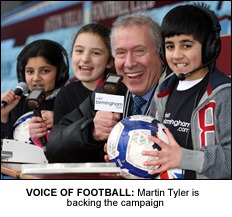 BIRMINGHAM kids are being urged to get into football – as commentators!
Visitbirmingham.com is calling on young football fans in Birmingham to put their commentating skills to the test following the launch of a competition to find Britain's next top football commentator, with the help of Sky Sports football commentator and legend Martin Tyler.
The competition, which is open to under-16's, offers the chance of a once in a lifetime chance to get an exclusive look at media behind the scenes at Villa Park, home to Prem stars Aston Villa.
Sky Sports commentator Martin Tyler said: Sky Sports commentator Martin Tyler said: "I am delighted to help launch this campaign with visitbirmingham.com. Commentary involves a lot of technique which can be learned. But the main requirement is a love for football and a passion for talking about it. Don't be shy and have a go. You never know what it might lead to."
Budding commentators are encouraged to visit
www.visitbirmingham.com
, where they will be redirected to a video clip. To be in with the chance of winning this money -can't-buy prize, children need to create an audio or video file [links to YouTube also accepted] with their own commentary to the footage supplied and send their entries to
voiceoffootball@hatchcommunications.co.uk
Entries must be submitted by midday on Monday 22nd February. A panel of judges will pick the top five entries, who will then attend an Aston Villa reserve game where they will show why they deserve to win by commentating at a live game.
The shortlist will be uploaded online, where fans, friends and families can vote for their favourite. The young commentator with the most votes will win the star prize, including a media tour, hospitality passes at Villa Park and an action packed family weekend in Birmingham.