 Irshad Mohammed Wali murdered roommate before dumping body and setting it alight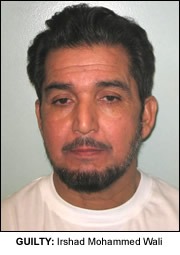 A MAN who killed his roommate and then dumped his body on the hard shoulder of a motorway before setting it alight has today been jailed for life.
Irshad Mohammed Wali, 52, from east London was found guilty at the Old Bailey of the murder of Sher Khan.
Mr Khan's burning body was found on the hard shoulder beside the M45 motorway in Warwickshire last December.
The 60-year-old from Newham died from head and neck injuries.
An investigation headed by Warwickshire police quickly established Mr Khan's body was dumped on the M45 motorway after he had been killed.
Inquiries led officers to east London and the investigation was passed to the Metropolitan Police Service.
The Old Bailey was told Wali shared a room with Mr Khan at an address in Crofton Rd, Plaistow. Detectives believe Mr Khan was murdered at this address on 30 December.
Following the incident Wali put Mr Khan's body in his car, drove to Warwickshire, and dumped it on the side of the M45 – before setting fire to the body using a can of petrol he had purchased on the journey.
Having returned from Warwickshire, he proceeded to make a number of withdrawals from the victim's bank account, the court was told.
In his defence Wali told the court he returned home to find Mr Khan already dead and two suspects inside the house who threatened him with a firearm.
He said the two men placed an "explosive device" in his pocket and forced him to drive the body to Warwickshire and withdraw money from Mr Khan's bank account.
Wali claimed the two men were able to track his movements and that he feared they would kill him at any moment if he failed to follow their instructions.
But his story was rejected by the jury and he was convicted of murder. He will be sentenced tomorrow.
DI Ian Goldsborough said: "Despite Wali's attempts to destroy the evidence of his crime and offload his responsibility to numerous others, the jury were able to identify the facts and come to this verdict. This enquiry illustrates the excellent co-operation that exists between officers and staff of different police services."