 Long-running Asian radio soap to be axed in March 2010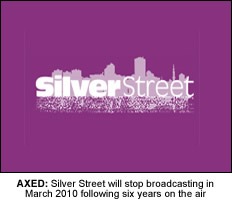 THE Writers' Guild has hit out at the BBC over their decision to axe long-running Asian radio soap Silver Street.
The 5-minute daily soap, described as a 'Asian Archers', will make way next March after almost six years on the BBC Asian Network.
The station announced their decision this week saying the move was an attempt to "deliver more impact and better value for money", and will be replaced by new monthly single dramas.
But the BBC was accused of damaging opportunities for writers and actors in the West Midlands by the Writers' Guild of Great Britain.
The Guild, which supports writers for TV, film, radio, theatre, books, online and video games, said the decision would also "undermine radio drama production in Birmingham."
Launched in 2004, over 15 writers and 95 actors found employment and a platform for their talents through Silver Street in its first year.
But it faced cuts in the last year, broadcasting from 10 to 8 minutes in 2008, and from eight to five earlier this year.
In March next year, Silver Street will make way for new 30 minute monthly drama's meaning the Asian Network will cut its drama output from 21 hours a year to just five hours.
"The axing of Silver Street would represent a significant loss of opportunity for talented writers from many backgrounds – as well as actors and producers – in the West Midlands," Writers' Guild President David Edgar said.
"The decision represents a further threat to radio production in Birmingham. "Birmingham's state-of-the-art radio studio is great for the Archers, but it should also create work which reflects the wide diversity of the region. New half-hour drama from the Asian Network is a highly welcome idea, but it should be in addition to rather than instead of Silver Street."
Explaining the decision to axe Silver Street, Andy Parfitt, Controller, BBC Asian Network said they remained "committed" to producing "distinctive drama".
"Silver Street has played an important role establishing the Asian Network as a national station," he said.
"However, as with all long running series, it's important to assess their value and impact for the investment made and we've decided that there is a better way to deliver drama to our audiences."
Related Articles