 Pakistan High Commission hit out at security 'slackness'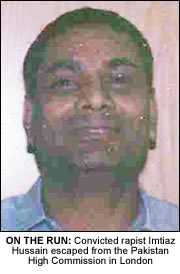 A DIPLOMATIC row has broken out between Britain and Pakistan after a rapist fled from the Pakistan High Commission in London 90 seconds after entering the building.
Consul general Nafees Zakaria hit out at the "incompetence" of British security officials after Imtiaz Hussain, 44, fled the building through a toilet window.  
Hussain, who is still on the run, was taken to the Pakistan High Commission last Friday to obtain a passport so he could be deported at the end of a nine year prison sentence for a double rape.
Diplomatic officials said Hussain was not handcuffed when he was brought into the building and had only a single security guard with him.
They also claimed they were not told the convicted criminal was coming.
Consul general Nafees Zakaria was particularly scathing in his assessment of the incident, accusing security officials of "incompetence".
"This happened because of the incompetence and slackness on the part of immigration officials. He simply ran away," Mr Zakaria said.
"I saw the CCTV recording. It showed they entered at one point. It took him one minute and 30 seconds to come out again.
"He was seen running out of the same door through which he entered with an immigration official."
Police have been hunting for Hussain since he was last seen running across Sloane Square shortly after 2.30pm.