 How a Welsh beauty crowned Miss Universe Great Britain ended up in Bollywood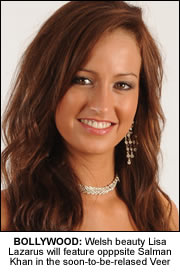 WHEN Welsh model Lisa Lazarus was crowned Miss Universe Great Britain last year, little did she realise her crown would lead her to Bollywood royalty.
Starring opposite Salman Khan in the eagerly anticipated period film Veer, Lisa has succeeded her wildest dreams. The model turned actress spoke to Zeenat Moosa about her journey from Wales to Mumbai…
How did Bollywood happen?
Well after winning Miss Universe Great Britain I was thrust into the spotlight. My name must have been known in India which eventually led to my role in Veer. At first I didn't know what to expect in terms of Bollywood, but looking back now it is one of the best things I have done.
You won Miss Universe 2008 – what does the title mean to you?
Winning my title was unbelievable I worked so hard to be there and so happy it all paid off. I loved every minute and wouldn't change it for the world.
Many would be asking why Bollywood and not Hollywood?
Well I am still finalising a number of offers from Hollywood, but to be honest Bollywood got in there first. The industry is going through a big change at the moment and I think I went in at the right time for Veer.
Were you aware of Bollywood before being approached for Veer?
Yes, I have always been a Bollywood fan. The culture, the song-and-dance; it's all very inspiring.
So what made you sign up to Veer?
I really liked the script I was sent for Veer, so that was a plus. Also the storyline is not typically Bollywood; there's a lot of meaning and sadness which is juxtaposed with the colourful dancing elements of Bollywood. The film is set in 1890 so it has that period feel to it.
You act opposite Bollywood's Salman Khan. How is he as a co-star?
Salman is a true character; he made me work hard, gave me to top advice but at same time made the whole experience so enjoyable. It wouldn't have been the same without him.
A lot has been spoken about your resemblance to Katrina Kaif. What do you make of it all?
Katrina is beautiful so I take it as a compliment! We got on really well and I would love to work with her in future
Now that you've had a taste of Bollywood, do you intend to stick around?
I had a great experience shooting Veer and I have already had other offers. But to be honest I'm taking one step at time. Fingers crossed I will make a good impression when the film is released.
What was the best part of Bollywood and India?
India was a culture shock! After the initial shock I adjusted to life there very easily and felt at home. The dance scenes and long hours on set were hard but I know it was worth it.
How quickly did you pick up the language?
I've travelled the world so I'm used to different languages. I always make the effort to learn as much as I can and I tried by best in India.
So what's next for you?
I am concentrating on my modelling for now as I am heading to America soon. I still have my options open and hope to return to India soon.
Veer is scheduled to be released later this year.