 Southmead anger at BBC documentary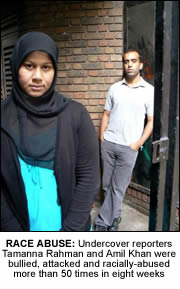 A POLICE inspector who polices a Bristol estate which featured on a shocking BBC Panorama documentary about racism has hit out at programme makers.
Inspector Mark Runacres, from Avon and Somerset Police defended Bristol's Southmead estate after appalling scenes of racism from residents on the estate were exposed on Panorama's 'Hate on the Doorstep' on Monday night.
Two Asian reporters, Tamanna Rahman and Amil Khan, posed undercover as a married couple and spent two months on the housing estate.
In shocking scenes the reporters were bullied, attacked and racially-abused more than 50 times in eight weeks.
The duo's experience aimed to test claims made by Trevor Phillips, head of the Equality and Human Rights Commission, that having neighbours of a different ethnic background was no longer an issue in modern Britain when compared to other countries.
But using secret camera's the couple recorded unsightly racial and physical abuse directed at them from unwelcoming neighbours.
The duo were frequently called "Paki" and "Taliban", and at other times physically abused.
But Panorama programme makers were accused today of unfairly portraying the estate which was described as a "strong and community focussed neighbourhood."
Inspector Mark Runacres said residents of the estate were "rightly proud of their area."
"We believe this documentary is an unfair portrayal of Southmead and the vast majority of people that live there," he said.

"Of course any incidence of racism is totally unacceptable and we always deal with it robustly but we want to make it absolutely clear that this documentary only concentrates on a small handful of individuals from the Southmead area. The Police and other agencies are already aware of who these individuals are and we are actively working with a majority of them to confront and tackle their problems."

He also stressed that families living in the area were safe and that programme makers were wrong in creating the impression that Southmead had "a disproportionately higher incidence of race hate crimes than other areas in Bristol or indeed across the UK."
Yesterday a 22-year-old man was arrested on suspicion of racially aggravated assault and an 11-year-old boy was arrested on suspicion of the same offence as well as on suspicion of attempted robbery, as a result of police inquiries following the Panorama programme.
Panorama: Hate on the Doorstep is available to watch on
BBC iPlayer
Related Articles: