 Mohammed Riaz and Bachan Athwal to feature in Sky documentary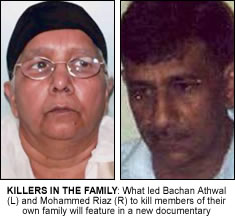 TWO of the Asian communities most shocking murders will feature in a new documentary on Sky next month.
Criminal psychologist Laura Richards will try and shed light on why father-of-five Mohammed Riaz and mother and son Bachan Athwal and Sukhdave Athwal murdered their loved ones.
The documentary, 'Killer in the Family', will be aired on Sky's Crime and Investigation Network next month.
Ms Richards will speak to family members in a bid to highlight what led to the killings.
As well as a selection of other gruesome murders, the shows producers picked out two killings for the series that sent shockwaves through Britain's Asian community.
In 2006 a quiet road in Accrington, Lancashire became the site of an unimaginable suicide-killing.
Caneze Riaz and her four daughters died after a fire swept through their family home on the night of October 31.
There was only one survivor, Caneze's husband and father to the four girls, Mohammed Riaz.
Fighting for his life in hospital, detectives eager to speak to him about the fateful events were robbed of that chance when he died from his injuries.
But following a detailed investigation it emerged Riaz had deliberately started the fire himself.
Pakistan-born Riaz had planned the killing in detail, buying petrol cans which he set alight and pouring petrol throughout the family's Tremellen Street home.

The apparent motive was disgust at his family's western lifestyle, including his wife's campaigning for women's rights and his children's less than strict adherence to Islam.
The documentary will show reconstructions of Riaz's behaviour prior to the killings as well as post-mortem results which showed the father-of-five was an alcoholic with cirrhosis of the liver.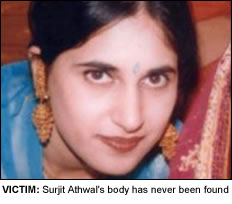 Later on in the series, Ms Richards will take a detailed look into the 'honour killing' of Heathrow Airport worker wife Surjit Athwal.
The 27-year-old left Britain for India with her mother-in-law Bachan Athwal in 1998 for a family wedding.
While the 70-year-old returned, Surjit never did. Bachan Athwal and her son Sukhdave were jailed for life in September 2007 even though Surjit's body was never recovered.
The documentary will show how Bachan, who has 16 grandchildren, ordered Surjit's death at a family meeting after finding out that she had been having an affair and wanted a divorce. The domineering 70-year-old vowed a divorce would only take place "over my dead body".
She boasted to her family she had got rid of Surjit by having a relative strangle her and throw her body into a river. But it was years before her frightened relatives gathered the courage to contact the police, and pass on Bachan's claims.
A spokesperson for the documentary said: "Each episode sees Laura profiling a different type of family killer. She does this with the help of comprehensive access to surviving family members – the people closest to both victim and murderer. And she speaks to the police charged with investigating these hideous crimes.
"All the time Laura is building a profile of the murderer to shed light on not only what happened, but also to identify the warning signs that pointed towards the killer's final dreadful act."
'Killer in the Family' will broadcast Sundays from 25th October 2009 on the Crime and Investigation Network on Sky