 One Game One Community week of action rolls into action in Birmingham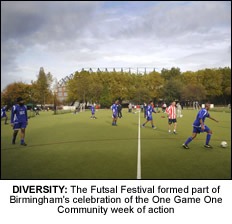 BIRMINGHAM kicked racism into touch last weekend when hundreds of budding football enthusiasts took part in a Futsal festival in the city.
The weekend festival was held as part of the One Game One Community week of action and was hosted by Birmingham County Football Association (BCFA) and its Community Partners Team United.
The fair play themed event incorporated futsal, music and entertainment to start Kick It Outs', One Game One Community week of action as well as launch the BCFA's new 'You Say We Act' Kick Discrimination out of Football poster campaign.
Both adults and children from a cross section of backgrounds congregated at Aston Park Sports pitch to play in the fair play festival.
The event gave the opportunity for the participants to learn about each other, break down barriers and build bridges to work in unification.
Juned Mohammed, BCFA Football Development Officer said "This weekend has been a tremendous success, with a huge turnout of children and adults from around the region who have come together to take part in a series of Futsal games that rewarded fair play.
 "It was wonderful to see the many different cultures and religions that make up the footballing culture in the region come together here and showcase that regardless of your colour, caste or religion, everybody can play football and above all play football in a positive and harmonious environment."
A question and answer session, including Ravi Masih from Aston Villa FC, singer and now coach Jaz Dhami and Brendon Batson from the FA, gave the opportunity for attendees to question the panel on areas surrounding equality and exclusion in football.