 Detectives still hunting killer of Mohammed Arshad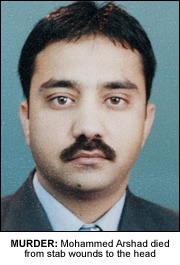 DETECTIVES investigating the murder of a Birmingham taxi driver have sealed off the road where his body was found to enable a forensic reconstruction to be carried out.
West Mercia Police are still hunting the killer of Mohammed Arshad who was stabbed repeatedly in the head in July.
The father-of-three was found slumped on the ground in Wast Hills Lane, in Hopwood, on the border of Birmingham and Worcestershire.
His blue Ford Galaxy taxi was found abandoned in Shannon Road, about a mile away.
Despite a £10,000 reward and an intense media campaign, which involved publicising CCTV images and an E-fit of a man wanted in connection with Mr Arshad's murder, no significant arrests have been made by detectives.
Detective Superintendent Sheila Thornes, who is leading the murder investigation, said the reconstruction would look into greater details the sequence of events inside the taxi with a view to identifying further forensic opportunities.
A vehicle similar to Mr Arshad's blue Ford Galaxy people carrier is being brought in for the reconstruction which will involve the force's forensic investigation team and experts from the national Forensic Science Service.
"Although we obviously examined the scene after Mr Arshad was found stabbed we are hoping that the information gleaned from this exercise will build on what we already know," Det Supt Thornes said.
She said officers were finalising house-to-house enquiries at the nearby Hawkesley Estate in Kings Norton, and that a second round of obtaining pictures and DNA samples from local men aged between 14-44 in nearby Monyhull Hall Road had begun.
Householders will also be shown CCTV images and an E Fit of the man police believe was Mr Arshad's last customer, who was picked up from outside Broadmeadow School in Monyhull Hall Road.
A CCTV image of the man is now being carried on the back of National Express West Midland buses – the first time West Mercia Police has used bus advertising in a murder investigation.
Anybody with information on Mr Arshad's murder is urged to call the murder incident room at Redditch on 0300 333 3000 or ring Crimestoppers anonymously on 0800 555 111.