 Leicestershire Constabulary to remember Sergeant Javed Akhter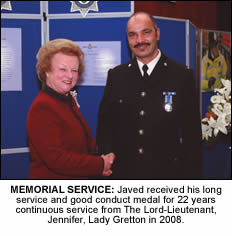 A POLICE Sergeant who died suddenly at the age of 50 is to be honoured by his colleagues and family at a special memorial service.
Javed Akhter, who spent 22 years in the police force, died on 19 September.
His colleagues at Leicestershire Constabulary will remember his life at a special memorial service at Leicestershire Constabulary Headquarters on Wednesday.
Chief Superintendent Chris Garnham will join officers and Javed's wife, Fardus, 18-year-old son Idrees and 11-year-old daughter, Nadia at the memorial.
Born in Pakistan on New Years Day in 1959, Javed joined the Strathclyde Police in 1986 where he served as a Constable at Gorbals Police Station, Glasgow. He married his wife Fardus in Rochdale in 1988 and transferred to Leicestershire Constabulary in 1989.
Within Leicestershire, Javed served as a local beat officer and a principal beat officer responding to the needs of the community.
He was promoted to Sergeant in 2008 and took the role of Sergeant in the City Volume Crime Unit where he was serving at the time of his death.
Last year Javedwas presented with his long service and good conduct medal in 2008 for 22 years continuous service.
A spokesperson for Leicestershire Constabulary said they were continuing to "offer the family support at this difficult time."