 Anti-Muslim MP Geert Wilders overturns UK travel ban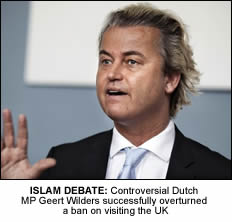 A COUNTER-extremism think tank has challenged controversial Dutch MP Geert Wilders to a public debate on Islam when he visits Britain on Friday.
The notorious MP was banned by the Home Office from entering the UK in February on the grounds that his presence would inflame community tensions.
It followed criticism from within the UK over plans to screen Mr Wilder's highly controversial film 'Fitna' in the Houses of Parliament.
The 17-minute film, which criticises the Koran as a "fascist book" and features verses from the holy text alongside images of terrorist attacks in New York and London, sparked violent protests last year when it became available on the internet.
Today Mr Wilders, who has been accused of Islamophobia, successfully overturned his UK travel ban and is expected to arrive in the country on Friday.
He revealed he will show his anti-Muslim film in the UK, but not during this week's visit.
Quilliam, Britain's first counter-extremism think tank, said they were eager to challenge Mr Wilders to a public debate on Islam.
The organisation said that while his statements on Islam were "bigoted, ill-informed and offensive" it was important that they be "challenged through debate and argument."
Ed Husain, Co-Director of Quilliam, said: "The Home Office was wrong to try to ban Geert Wilders from the UK given that he has not directly incited violence. We welcome the fact that this key principle of free speech has now been defended by the British courts.
"However, it is also vital that Wilders' undoubtedly bigoted views are firmly challenged and subjected to proper critical scrutiny. No religion is monolithic and Wilders has evidently been convinced by the words and actions of Islamists and jihadists that Islam is inherently violent and intolerant.
"We therefore challenge Geert Wilders to an open debate in which we will argue that Islam is compatible with secular democracy and that, contrary to what he apparently believes, Muslims are not a threat to Europe and its values."