 Resignation offered in wake of corruption allegations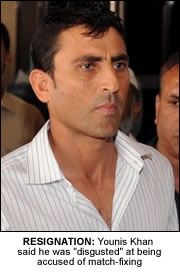 PAKISTAN captain Younis Khan has reportedly offered his resignation as captain following match-fixing allegations levied against his team at the Champions Trophy in South Africa.
The offer was made at a meeting of the National Assembly's standing committee on sports in Islamabad which discussed amongst others things Pakistan's semi-final exit against New Zealand in the tournament earlier this month.
Cricket website Cricinfo reported Pakistan Cricket Board chairman Ijaz Butt turned down the request but the issue has not been fully resolved.
Younis told the Reuters news agency: "Yes I have submitted my resignation because I am disgusted by these match-fixing allegations made against me and the team.
"I have told the chairman to go through my resignation and read my point of view."
The developments come in the wake of match-fixing allegations levied against Younis and the Pakistan team by Jamshed Dasti, chairman of the Standing Committee on Sports in the Pakistan Lower House.
Just days after Pakistan were knocked out of the Champions Trophy in a 5-wicket loss to New Zealand, Dasti questioned the manner of the defeat saying the team had deliberately underperformed.
He also claimed Pakistan deliberately lost to Australia in the final group game "just to keep India out of the tournament".
India, who won their final game, needed Australia to lose in order to progress in the tournament.
Dasti's comments rocked the cricketing world, with many questioning why he chose to speak out without any evidence.
The PCB and Younus also hit out at the remarks at the time.
"It came as a shock to me that such allegations have been made without any evidence or concrete proof to back them up," Younis was quoted as saying in the News last week.
"I don't know how anyone can make such baseless allegations without realising how much it affects the players and their fans."
PCB chairman also publicly backed his players just a few days ago.
"The senator has a right to criticise the working of the Board but he should not have criticised the team which did very well in the Champions Trophy. There is no proof of fixing," Butt told reporters.
But the chairman now has the difficult task of deciding whether to accept the resignation of a man who lifted the Twenty20 World Cup just three months earlier.
He told Cricinfo he would discuss the matter with Younis separately before a final decision is made.