 Bollywood duo reunite after a decade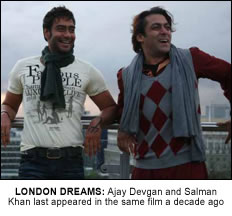 BOTH Salman Khan and Ajay Devgan have their individual movie releases in the coming weeks but Vipul Shah's London Dreams will see the two stars reuniting on the big screen after a decade.
Last seen in Sanjay Leela Bhansali's smash hit Hum Dil De Chuke Sanamin 1999, Ajay and Salman never got cast together till London Dreams, in which they play music aficionados in a London-based rock band.
 "I never cast them because I wanted to repeat the Hum Dil… magic," Vipul admits. "In fact it didn't even occur to me that the two hadn't been together in a film since. I wanted Ajay for his intensity and Salman for his madness and after I cast them someone pointed out the casting coup of sorts. In fact, not many know that Salman and Ajay are great friends in real life and have immense respect for each other. They aren't very overt about it but they share amazing vibes and that will be visible on screen in London Dreams."
Ajay bagged Aishwarya Rai in Hum Dil…; let's see who gets lucky with London Dreams co-star Asin in London Dreams!