 Former BBC Apprentice stars lend a helping hand for 'The BIG Iftar' campaign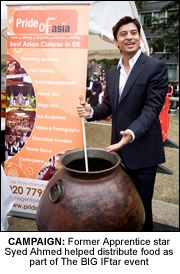 A MUSLIM charity has reached out to London's homeless as part of a Ramadan initiative.
London-based IF charity teamed up with other aid organisations including The Salvation Army and Thames Reach to share a Ramadan Iftar meal with the city's homeless.
Iftar is the daily breaking of the fast meal for Muslims during the Ramadan period.
Over 1500 people – including former stars of the BBC show The Apprentice – attended the event in east London's Altab Ali Park to raise awareness about homeless communities around the world.
Former Apprentice celebrities, Tre Azzam, Shazia Wahab, Majid Nagra and Syed Ahmed donned their aprons and chef hats to help serve rice and chicken dishes to over 1000 local homeless people.

Local MP George Galloway and Baroness Pola Uddin spoke at the event, alongside the Leader of Tower Hamlets Council, Lutfur Rahman.
George Galloway said: "The BIG IFtar was a great way to recognise the plight of homeless people in our very own city. I am happy to support any future plans IF has to help the homeless in this borough in particular the idea of providing food every Friday for the homeless in conjunction with many of the restaurants of Brick Lane."
The event was part of the 'IFtar 10,000: Around the World in 10 IFtars' campaign set up by the charity which aims to highlight the situation and conditions of homeless people in London as well as displaced communities around the world, affected by war, famine and other natural disasters.
The campaign will work with a number of international charities including Islamic Relief and Muslim Hands to take the initiative abroad until the end of Ramadan.