 Communities Minister hits out at 'anti-Islam' protest groups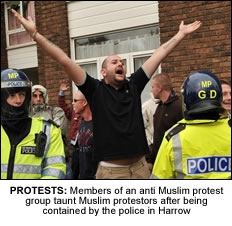 GOVERNMENT Minister John Denham has accused far-right groups protesting against Islam of deliberately setting out to provoke British Muslims.
In an interview published by the Guardian newspaper, Communities Minister John Denham accused the anti-Islam protesters of deliberately stirring up trouble.
His words were published a day after a group calling themselves Stop the Islamisation of Europe organised a protest outside Harrow Mosque in north-west London on the eighth anniversary of the 9/11 attacks.
Whilst only a handful of its supporters appeared, a large crowd of Muslim youths who had gathered to defend the mosque clashed with police.
The protest follows race-riots in Birmingham city centre earlier this month and in August when the English Defence League clashed with anti-fascist supporters.
On both occasions supporters of the two rival groups fought running battles as riot police struggled to contain the violence.
Denham said it was "pretty clear" what the EDL's tactics were in organising their demonstrations.
"I think the English Defence League and other organisations are not actually large numbers of people," Denham said.
"They clearly though have among them people who know exactly what they're doing. If you look at the types of demonstrations they've organised … it looks pretty clear that it's a tactic designed to provoke and get a response, and hopefully create violence."
The English defence league hit back at the government minister accusing him of "legitimising the violent response of Muslim and government sponsored counter demonstrators."
The group said it would press ahead with its protests in Manchester and Leeds next month "until the government take concerted action against those who preach hatred and wish to harm the people of this country."
Denham's comments were backed by the Muslim Council of Britain who urged Muslims to "exercise caution in the face of growing provocation". In response to the events which unfolded outside Harrow central mosque on Friday, the group released guidance notes for mosques across the country to counter the far-right threat. It urged mosques to liaise with police and MPs in dealing with anti-Islam protests, adding that while the threat from the far-right was "real" 
Mosque leaders had a duty to remind worshippers "about their responsibilities as Muslims" and not be provoked.