 Supermarket giant embraces Asian fashion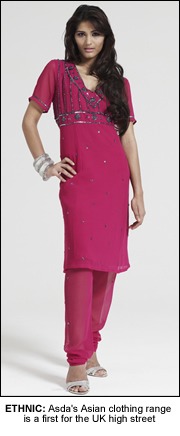 SUPERMARKET giant Asda has launched its first ethnic clothing range in select stores across Birmingham.
The collection, which will be branded with the supermarkets George label, was introduced in response to huge demand from Asda customers for authentic cultural clothing, the supermarket said.
It follows a move by Asda's parent-company Wal-Mart who introduced a similar style Bollywood collection in Canada earlier this year.
The 13 piece collection, available at Birmingham 's Great Bridge, Small Heath, Perry Barr and Walsall St Matthews Asda stores, includes sequin and embellished Salwaar Kameez, Khurtas, Dapata and Churidar.
The collection has been designed in conjunction with a team in India and is made with authentic Indian material.
Prices start from £7, with a complete suit for £26 – a fraction of the price of independent retailers that can charge up to £60 for similar suits.
The collection was designed with significant input from a panel of Asda customers, and although not aimed solely at Asian shoppers, the styles are suitable for all cultures.
Asda said it is expecting to see a high demand for the collection from customers in anticipation of the Eid Islamic holiday.
"We are extremely proud to be launching the UK's first mainstream range of traditional Asian clothing." said Fiona Lambert, Brand Director at George. "We have the broadest socio demographic group of all the supermarkets and we wanted to offer affordable clothing suitable for all our customers.
"Our ethnic food ranges in Asda have seen a 46% year on year increase during Ramadan and we're expecting huge demand in the build up to Eid and Diwali celebrations."
Asda's parent company Wal-Mart, launched a Bollywood inspired collection in Canada earlier this year with an unprecedented positive response from its customers.
"We were blown away by the attention brought on by the launch of our range of South Asian influenced clothing – from industry watchers, to media, to our ethnic customers. Strong sales aside, the buzz and goodwill that continues to surround the line has been absolutely remarkable," said Wal-Mart Canada Corporate Affairs Director, Kevin Groh.
"We believe efforts like the introduction of traditional ethnic wear is part of the reason Wal-Mart has just been voted the top department store of the year by ethnic communities in the Greater Toronto Area – Canada's most multi-cultural region."
The move is a first for the UK high street and marks a significant shift in the way retail giants are embracing their Asian customers.
Asda said sales of ethnic foods at the supermarket have increased 46% year on year, while some of its stores have specifically targeted British Muslims with Halal food counters.
A preview into the Asian range has achieved positive responses from both the consultant ASDA customers and industry insiders alike.  Asian Woman Editor, J Wimal said: "It is exciting to see a well known high street retailer embracing ethnic cultures, and offering good quality authentic outfits at affordable prices.  This definitely marks a turning point for ethnic clothing on the high street."
The Asian range is available from 14th September at selected Asda stores and on 
www.George.com