 Tonio Liuzzi gears up for Force India run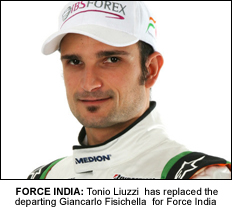 TONIO Liuzzi has been Force India's test and reserve driver since the start of 2008 season.
For the rest of this season the Italian will take the F1 wheel for his Force India team as replacement for the departed Giancarlo Fisichella who joined rivals Ferrari for the remaining 2009 F1 season.
Having already contested 39 F1 races in his career, Tonio will return to the spotlight for his hometown Grand Prix this weekend.
Here he reveals his thoughts on one of the biggest chances he'll get to revive his F1 career…
With testing in-season banned this year, you haven't done much running this year. How have you kept yourself 'race-fit'?

We did one test in February, but it was only a shakedown at Silverstone. We got the car quite late, so we only had time to do one proper test with the race drivers to get ready for Australia. From that point on I could only do a few aero tests, which is not proper testing, but at least it's miles in the car to get used to the systems. I've also been spending a lot of time at races with the team and also competing in other series like A1GP and Speedcar so I haven't lost that hunger.
What sort of things have you been testing?

Until a few months ago we were testing all the new updates that we put on the car, like the package we had in Valencia and before that, Silverstone. We always run what we are testing in the wind tunnel and what we are bringing to the circuit to see if it's giving the same answer. And then of course we try to make the set-up arrangement with the new aero balance, so when we arrive at the circuit we already have a good baseline.
How tough has it been watching from the sidelines over the past two years, especially as the car has improved recently?

I feel very much involved with the team and with the improvements we made. A lot of the developments have been made with the wind tunnel and I'm very happy that the team is moving forward and we are doing a great job. For sure in Spa it was a bit of a dream for us to be on pole position! But it's been a difficult year because it's been my second year as a third driver. I think I'm born for racing, and in the end it's difficult to watch the races on TV. But inside myself I was pretty confident that I'd be back in a race seat soon, and it kept me motivated for the future. I was ready to jump in the car whenever I was needed.
You raced in A1GP this year. Was that useful mileage?

I did Portugal and Brands Hatch. It was a good event, good training for me. Even if it's not F1, we're racers, so whatever they give us, if it's a Fiat 500 or an F1 car, we'll race! A1 was a good car to drive, because the feeling was not that far from a proper F1 car, just a little bit heavier and the engine is less strong. But it's definitely been good training.
You also did the Speedcar series at the start of the year. How was that?

That was another event that kept me busy, but for sure it's very different from a single-seater driving style! It taught me a lot because I drove with some really professional drivers. I don't need to name the names, but everyone in the history of F1 was there! So I learned a lot from them in the way they approached the racing and the way they behaved in the races. It was really good fun, because the car was good fun to drive.
Did you ever go to Monza as a fan?

Never! I was in Imola when I was a kid, but never in Monza.
How do you feel about racing there again?

Monza is one of the most historic races of the entire championship, and it's in Italy. The vibe that is in Monza is great, and when I won there in F3000 in 2004 it was an unbelievable feeling. You just need to see the surroundings of the circuit. In the end you are in a forest, and you are driving at 330km/h in the middle of the trees. The park makes it really special. When you walk around and see the old banking it's really nice, you really feel the history there.
How did you get on in F1 there?

I have raced there two times, coming 14th and 17th so I finished both times! But they were good results for the team I was with, because at Toro Rosso we always struggled for top speeds in Monza.
Do you have any concerns about getting up to speed after so long away?

I think I'm ready to jump in the car because I kept myself really fit, and the work we've been doing is helping me a lot to keep me sharp. Monza will be perfect because it's a good from a physical approach. Singapore would have been tougher, because I don't know the circuit, and everyone complained last year that it was very physical. The speed doesn't concern me, I think we'll be straight away close to the pace. I'm more than fit than ever.