 BBC's Crimewatch broadcasts 999 call from man claiming to be killer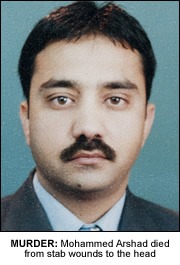 DETECTIVES investigating the murder of Birmingham taxi driver Mohammed Arshad have said they had a "good response" to an appeal on BBC's Crimewatch programme.
The programme broadcast a reconstruction of Mr Arshad's murder last night.
Mr Arshad, a self employed taxi driver with Birmingham-based A Cars, was found with severe head injuries in Wast Hills Lane in Kings Norton six weeks ago.
His Ford Galaxy Estate was found abandoned about a mile from where Mr Arshad's body was discovered near the Hawkesley estate in Kings Norton.
The father of four died the following day in hospital from stab wounds to his head.
A 999 call made to detectives on Sunday from a man claiming to be the killer was aired for the first time. CCTV images of a man believed to be the last person to see Mr Arshad alive were also shown.
Detectives said around 40 calls were received as a result of the reconstruction.
Some claimed to know the identity of the man shown in the CCTV images, while others said they recognised the voice of the man who made the 999 call.
Detective Superintendent Thornes, who is leading the investigation, told Crimewatch that officers were still engaged in mass screening on the Hawkesley estate where residents are being shown copies of a CCTV image. Male residents aged between 14 and 44 are also being asked to provide voluntary forensic samples for elimination purposes.
"We are pleased with the general response to the Crimewatch appeal and our officers are already acting on some of the information we have received. More information has been coming in today and all the calls we have received will be followed up," Detective Superintendent Thornes said.
"We would obviously like to thank all those people who have picked up the phone already to try and help us and urge anyone who has not yet come forward with information to do so."
CCTV images of a man want to speak to in connection with the investigation are available to view on the West Mercia Police website at www.westmercia.police.uk and anyone with information about the murder should call police on 0300 333 3000 or ring Crimestoppers anonymously on 0800 555 111.