 Detectives step up hunt for Ajay Kaushal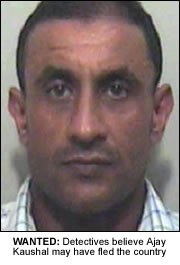 DETECTIVES are making a renewed appeal for the public's help in tracing one of the county's most wanted men.
Ajay Kaushal, 50, is wanted in connection with a serious and violent kidnapping offence which occurred in Burnley more than six years ago.
Kaushal was part of a gang who kidnapped a Burnley businessman on 17 June 2003.
The victim was at his home address when he was taken by a group of men who forced him into a vehicle and drove him to a location in the Manchester area.
The man was then subjected to a violent assault whilst demands for large sums of money were made to family and friends.
Once a substantial quantity of money had been handed over to the kidnappers the man was released in the Manchester area.
Kaushal who was living in the Stretford area of Manchester at the time was later charged with conspiracy to kidnap along with five other men from the Manchester area.
However, he failed to appear at Preston Crown Court during the subsequent trial and in January 2005 he was convicted in his absence and sentenced to 15 years imprisonment.
Five other men were also convicted of the same offence and received substantial periods of imprisonment.
Detective Inspector Simon Brooksbank, from Lancashire Constabulary's Serious and Organised Crime Unit said: "We are very keen to ascertain the whereabouts of Ajay Kaushal and would ask anyone that has any information that could assist us to come forward.
"Kaushal is responsible for an incredibly serious offence, yet although he was sentenced to 15 years in prison he has showed absolute disrespect for the law by refusing to be brought to justice and continuing live his life as a free man.
"We do believe that he has fled the country however, we still think that people living in Manchester and possibly any east Lancashire connections Kaushal may have had could hold vital information about his whereabouts and we would ask them to contact Lancashire police or Crimestoppers."
Anybody who has any information about Kaushal's whereabouts should call Lancashire police on 08451 25 35 45 or call Crimestoppers on 0800 555 111.